A daughter's journey: DNA test helps unite lost family members
Special to The Dallas Examiner | 12/1/2018, 2:21 p.m.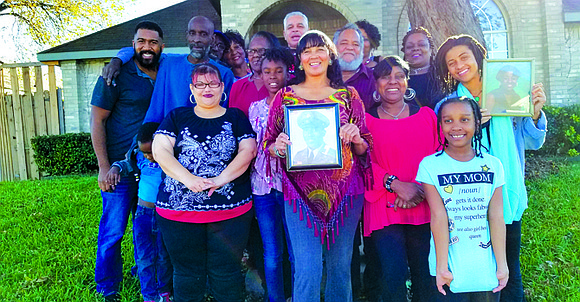 Special to The Dallas Examiner
For the past 38 years, Monique Stone has been on an amazing personal journey to find two people in her life that she never got a chance to know: her birth parents.
Stone, whose birth name is Ulrike Elisabeth, was born in Germany in 1958 to a young German girl and an African American Army soldier during the Berlin Crisis.
After Stone's mother became pregnant, her parents took her to St. Annaheim in Mannheim, a home for unwed pregnant girls. Stone's mother, unable to return to her parents' home with a baby, unwillingly gave her to the orphanage.
Sergeant Stone, an Air Force soldier, and his wife, adopted her 18 months later and changed her name. It was then that she was introduced to the 6-year-old German-African American boy the Stone's adopted a year earlier.
In 1980, Stone, now 21 and expecting her first child, began to develop the urge to find her birth parents. She had her German adoption contract and birth certificate translated, yet it revealed very little. It stated that her mother's name was Hannalore Rosinke, but there was no mention of her mother's address or father's name.
Over the next 10 years, all of her written requests to the German courts, St. Annaheim and the state orphanage to obtain any information pertaining to her mother was denied. Then one day, Stone was thumbing through a box of family photos. Suddenly, she came across a picture of her adoptive brother, who was previously stationed in Germany, pointing at the American Embassy sign on its building.
Stone took the photo of her brother as a sign and called to ask the U.S. Consulate in Germany for help. The consul was touched by her story and agreed to see what he could find. A few weeks later, the consul called Stone to let her know he had found her birth mother.
Amidst the tearful conversation that had to be interpreted in 1992, Stone learned that she had six younger half brothers and sisters. Her mother told the interpreter that Stone's father was an Army soldier from the United States.
Before he left on his last mission, he promised he was coming back to them but never returned. He was killed in the war, according to Rosinke.

Stone's mother asked her to visit her in Germany and promised that once they met face to face she would answer all of her questions privately.
Stone was extremely excited about their trip to her homeland and about meeting her mother and siblings in person. She was especially excited about speaking with her mother to finally learn her father's name and to get a glimpse of the man he was.
But Rosinke died before Stone arrived, taking what she was going to tell Stone about her father to the grave. Depression sunk in as the reality of finding her father seemed officially over. And so, Stone moved on with her life and focused on her remodeling business and raising her children.