A daughter's journey: DNA test helps unite lost family members
Special to The Dallas Examiner | 12/1/2018, 2:21 p.m.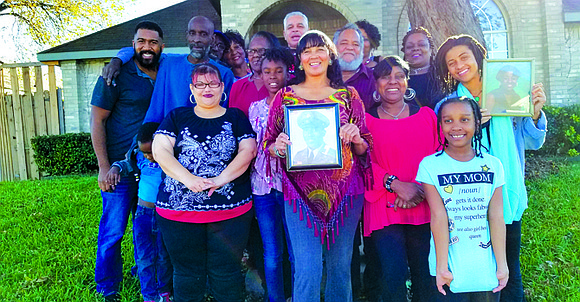 Then one night, Stone had a troubling dream. She heard her mother's voice repeating what she had told her over the phone years earlier: Before he left on his last mission, he promised he was coming back to them but never returned. He was killed in the war.
Stone awoke from the dream and began to wonder: What if he hadn't been killed in the war? What if he didn't return because he didn't want to see them again? What if her mother just made up the story to make her feel better about him and being placed for adoption? What if he didn't even know of her existence? Or, what if he survived and wasn't able to get back to them? Stone's mother presumed him dead, but had he really been killed?
Even if it were true that her father was deceased, he could have brothers, sisters, aunts or uncles still living, Stone surmised. Maybe his parents are still alive or maybe he could have had children before he left the states.

However, without a name to go on, Stone knew it would be next to impossible to find her biological father. Unwilling to give up, Stone visited her local Veterans Administration occasionally over the span of 22 years and spoke to every veteran she came across. In hopes that they or someone they knew were stationed in Aschaffenburg in 1957 and knew her father.
Fast forward to the spring of 2018, 60-year-old Stone and her two children, now 37 and 25, embarked on a family DNA-testing journey. At the time, Stone didn't have much faith in or knowledge of the capability of the relative finding tool. Stone knew it would reveal the obvious: her European and African roots.
It was the percentage of her ethnicity and pertinent health factors that she expected to find the most interesting. But, when Stone received and read her report that summer, she instantly found 1034 relatives in the U.S. alone who shared the same DNA with her.
Overwhelmed and excited, she reached out to the top 60 relatives with the highest percentage of shared DNA and sent them all a standard message through the 23andMe DNA testing site.
"Hello, my name is Monique and I'm looking for my African American father who served in the Army and was stationed in Aschaffenburg, Germany, in 1957," she wrote.
Within hours, message after message came pouring in. Two messages in particular came in from her first and second cousin, who happened to be mother and daughter. Both cousins responded that the person she was looking for could only be their older cousin. He was the only male in the military at that time, but unfortunately he had died some years before.

Nevertheless, her first cousin insisted that Stone call his sister for confirmation. She also told Stone that all of her family were born and raised in Texas and that the majority of the family still live in the state, specifically in Austin, Lockhart, Houston and in Stone's current city of residence for the past 38 years, Dallas.