The state of education in Houston's Black community
JEFFREY L. BONEY | 12/1/2018, 1:36 p.m.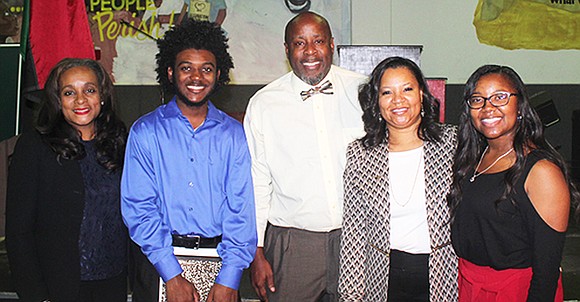 (NNPA) – A spirit of hope and change hovered over the S.H.A.P.E. Community Center in Houston's historic Third Ward community Nov. 15, as dozens of engaged parents, educators, elected officials and community members were on hand at the Black Parents' Town Hall Meeting on Educational Excellence, where a lively discussion about the state of education for Black children in the Greater Houston area took place.
The event was made possible by the Bill and Melinda Gates Foundation, who partnered with the National Newspaper Publishers Association to create a 3-year, multimedia public awareness campaign focusing on the unique opportunities and challenges of the Every Student Succeeds Act.
ESSA, which reauthorized the Elementary and Secondary School Act and replaced No Child Left Behind, received bipartisan support and was signed into law by President Barack Obama on Dec. 10, 2015. The regulations are administered by the U.S. Department of Education and went into effect on Jan. 30, 2017.
Under ESSA, states across the country adhere to more flexible federal regulations that provide for improved elementary and secondary education in the nation's public schools. The law also ensures that every child, regardless of race, income, background or zip code has the opportunity to obtain a high-quality education.
By raising awareness of ESSA policies, the NNPA, which is a national trade association of approximately 211 Black- and women-owned U.S. media companies with a weekly print and digital readership of over 20.1 million Black Americans, seeks to empower parents to advocate for instructional strategies that are in the best interest of their students and communities.
In addition, this is a tremendous opportunity to increase support around academic issues that will make a difference in closing the achievement gap and ultimately the wealth gap.
Dr. Elizabeth V. Primas, a lifelong educator who serves as the program manager for the NNPA's ESSA Public Awareness Campaign, was on hand to welcome attendees and talk about ESSA being a tool to help increase the effectiveness of public education in every state, including Texas. Lynette Monroe, who is the program assistant for the campaign, served as the event moderator.
The panelists were asked questions regarding several topics, including how the Texas Education Agency funding structure promotes or inhibits equitable school funding; their views on standardized testing overall and, specifically, African American student performance; effective ways to communicate and foster engagement with African American family members; how to increase community engagement; and things the Texas Education Agency or other entities can do to better prioritize the needs of students who receive special education services.
"You must get engaged in your child's education to ensure they don't become a statistic," said parent and community activist Monica Riley.
Monica Riley was one of the five panelists, along with her daughter Chirelle, who participated in this powerful panel discussion, which also included Houston Independent School District Board President Rhonda Skillern-Jones, educator Larry McKinzie, and Texas Southern University student and Forward Times intern Treyvon Waddy.
Riley, who is the mother of seven girls and a product of the public school system, talked about the passion she developed about education, particularly after having to make tough choices about her children's educational future.