T.D. Jakes reflects on his roots at African American Museum
MICHAEL H. COTTMAN | 12/1/2018, 2:15 p.m.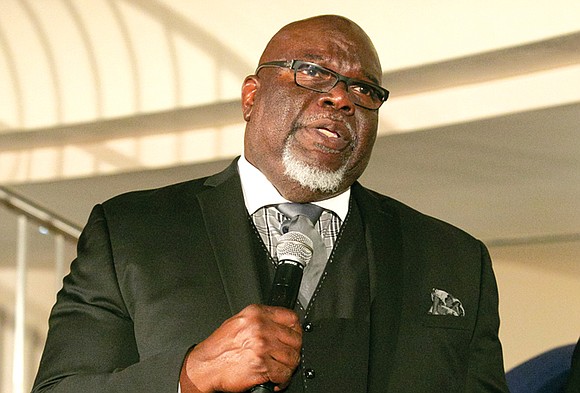 Meanwhile, Jakes reflected on the artifacts, which conjured images of enslaved Africans aboard slave ships heading from West Africa to the Americas.
"All of the people who got on the boat were not the same people, but they had to unify in order to survive under stress." Jakes said. "It's an amazing story when you think about it. They didn't even speak any other's language so well – that was a certain amount of distrust under the planks of the ship. There was a huge enemy above, and so in that sandwich dimension of history, we survive nonetheless.
"We learn how to communicate with each other. We learned how to become a people. We struggle with what to call ourselves – 'darkies' and 'coloreds' and 'niggers' and 'negroes' and all of these names that were thrust upon us is a reflection of trying to identify who am I."
Jakes said slavery was also about survival – people who were forced into a violent life and stripped of everything, including their names. He added that slavery and contemporary issues of race are forever intertwined, and he stressed the significance of the Dallas exhibition.
After Jakes completed a tour of the exhibit, he sat inside one of the museum's upstairs galleries, glanced at a panel about enslaved African people, and spoke philosophically about slavery's 300-year impact on the world.
"I think that no matter what the color of the people are, anytime we allow one group of people to have that much power, abuse perpetuates itself," Jakes said. "Whether you are talking about some of the atrocities that have happened in the history of the Jews, or whether you're talking about the apartheid in South Africa, or whether you're talking about slavery and Jim Crow in America."