Former WNBA champion passes skills on to the next generation
DIANE XAVIER | 12/17/2018, 5:48 p.m.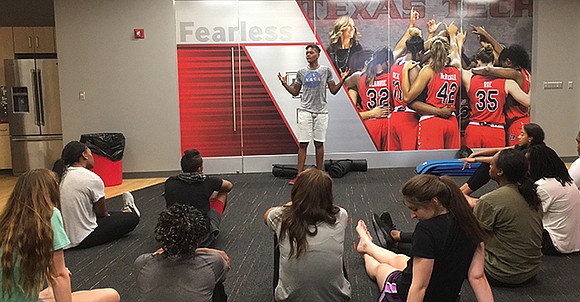 The Dallas Examiner
Alicia Thompson strives to always be at the top of her game. The former professional basketball player and 2004 WNBA Champion for the Seattle Storm is using her skills on and off the court to help create the next generation of athletes, leaders and champions.
As a professional basketball player, coach, public speaker, performance specialist and personal trainer, Thompson has her hands full. Nevertheless, she loves coaching people of all ages, races and genders through her business, Flow Performance Training and Wellness, based in Dallas/Fort Worth, which she co-owns with business partner Farrah Sharpe. She is also an assistant manager at PickUp USA Fitness, a basketball-focused fitness club in Coppell.
At the training and wellness center, the mission is to create healthy relationships and learn to cultivate meaning in one's life with happiness and well-being. They do this through classes in nutrition, basketball training and self-care.
"My youngest client is 3 years old, and I have trained both men and women's professional athletes to students in middle and high school and people of all ages," Thompson said. "I tell my students that we are all here to do special things in life and live fully. We all get stressed and need self-care and self-love. So that's what we are trying to do with our workshops, is to help people become a better aspect of themselves."
Sharpe and Thompson also train business and community leaders. They have worked with corporations such as the Cintas Dallas Management Team where they teach clients to de-stress and achieve their best performance in the workforce. Other clients include the military, with Goodfellow Air Force Base. They also worked with Texas Tech basketball and have done high schools camps in Texas.
Sharpe, a mind-body medicine specialist, works with Thompson to help clients reach optimum levels of performance.
"I help people to deeply relax, transcend and create art that can lead them to their life's purpose," Sharpe said. "I teach meditation, inner child work imagination, de-stressing and teach people how to go deep within and release their trauma and pain, which is the main cause of actual stress."
The techniques used in the program helped Thompson, who was head coach and director of operations for the Women's Minor League Basketball Association team, Dallas Lightning, win the 2017 championship in its first year.
"The technique helps the team get into accord and drops the competition against teammates," Sharpe said. "It brings the feeling of competition that I am no longer competing with my teammates or team members, but I am competing against myself so I can become a better me."
Sharpe said the program is effective, especially with teenagers.
"Unfortunately, bullying is still happening and we noticed that teenage girls were having self-esteem issues," Sharpe said. "Some were experiencing sadness, anxiety and were a little depressed and had trouble coming together as a teen. We started working with them in the afternoon and noticed immediately that their mindset had turned around. They became more loving and compassionate towards each other and the bullying and gossip stopped."