Former WNBA champion passes skills on to the next generation
DIANE XAVIER | 12/17/2018, 5:48 p.m.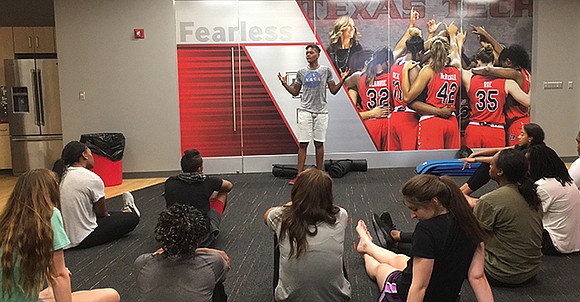 The techniques have also been used in the classroom where teachers have found it effective as well.
"Students were more quiet, less argumentative and there was less bullying," Sharpe said.
Thompson feels connecting athleticism with mind-body techniques builds the overall person.
"We talked to parents and they said even though their child might have good skills, they often lack confidence," Thompson said. "This is where Farrah comes in. We teach kids that it is just not about running, dribbling or scoring, but the mental part is vital also."
Jason L. Riley met Thomas when he was looking for a coach for his daughter, who had only one week to prepare for seventh grade basketball tryouts. The young athlete informed Thomas that students would be trying out for teams A, B or C, and she would be happy to make the C team.
Thomas said she informed the young lady that she would make the A team.
"From there, Coach T has been all-in with my daughter," he recalled. "Coach T texts to check in, motivate her, make sure she is doing her homework, and provides steady encouragement. I know she has numerous clients, but she makes my daughter [and us] feel as if she is the only one. She is encouraging and energetic."
After just three training sessions, Riley's daughter made the A team.
"My daughter is a better player and much more confident on the court, and this is due largely to the investment that Coach T has made in her," the father reported. "The exciting part is that we have only just started."
Thompson, a Texas Tech alumni, was inducted into the Southwest Conference Hall of Fame in 2017 and was the 2017 Women's Final Four Ambassador in Dallas where she spent several days promoting the event getting youth excited about the championship game through reading, speaking engagements and workouts.
Initially, Thompson was not interested in coaching but said the position came to her naturally.
"At first, I never really wanted to coach," she said. "I remember as a player, most of my family members and mom said I should coach. I am big on building relationships, and I love to motivate and inspire people, and you can do that through coaching. I never really put myself into that position. It was just a natural flow."
Thompson also enjoyed a five year career as a high school basketball coach.
She knows what it is like to overcome odds in order to be your best.
The star athlete grew up in Big Lake in a single parent home. Her mother raised her and gave Thompson her first basketball at the age of 2. She recalled being able to dribble at 2 years old, and at 5, she started playing in a competitive little league or youth league. Then she started to play in middle school and high school track and basketball. She was an all-star player in middle school where the teams she played basketball on went undefeated.
"My mother became very ill with complications from lupus and diabetes when I was young and at age 12, I blew out my knee and had to sit out due to injury," Thompson said. "It was hard because I had the knee injury, and I had to help my mom get ready and get dressed. I also had to see some violence in the community. After having knee surgery, I ran a race and got last place, where as before I was the top athlete in seventh grade.