Local rapper 'champions' anti-bullying campaign
MIKE McGEE | 12/17/2018, 5:57 p.m.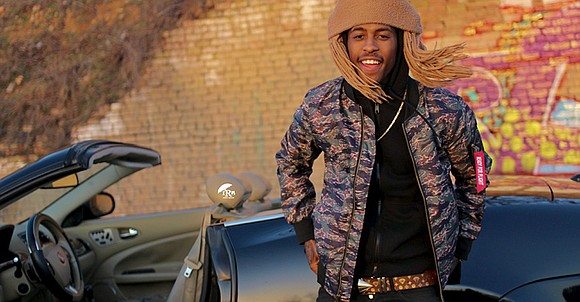 The Dallas Examiner
"I'm the champion. I'm the chosen one," Young Fab raps on his recently released single, Champion. "I'm the champion. I'm a hole-in-one."
The lyrics could be easily dismissed by some as the swaggering braggadocio of a hip-hop artist on the rise, but the words are more than just showbiz attitude for the young producer and vocalist – they are part of an anthem of encouragement.
Fab, or Taji Adkison, 20, is in fact a young man on a mission to reach out to his peers who are suffering through pain and despair, and may be considering suicide. Because just like them, he had at one time reached a low point that nearly led him to end his own life.
"I had actually tried to commit suicide at least four times," he recently confirmed.
Fab undertook something not regularly done in the often hyper-masculine sphere of hip-hop music and opened up publicly about his vulnerabilities and personal battles during the release of his single in September, which is National Suicide Awareness Month.
As Fab found firsthand, the bullying, attitudes and social expectations of others, as well as personal turmoil at home – that included domestic violence and the molestation of a younger sister – lead to violence, tragedy and self-destruction.
"I lived in California for, like, 11 years. And when I came back it was, I mean, just hell on hell on hell," he said as he described his experience in the DeSoto school system. He noted that some aspects of the high school social scene on the West Coast included being "tough; hard" in some extreme cases, but in his new school that was the standard operating mode for many of his fellow students.
"So when I came here, I had dreads, I had sandals, and I was just looking totally different than the norm in Texas and … I was very energetic, so I got bullied a lot. [For] just kind of being an outsider. Never could relax. Never could not look over my shoulder. People were sending death threats and always wanting to fight me."
He was tripped in the halls, hateful notes were stuffed in his locker, his head was slammed into a desk, and he was cyberbullied on a huge scale.
"So yeah, it was a lot," he said about being bullied for nothing more than being himself. "I was just different. Mostly because I wouldn't back down."
Hints of Fab's struggle and suicidal thoughts can be found in Champion, which captures some of his soul-deep pain in lyrics such as "Heart crush, soul crush. Ready to bust," and "The devil tried to destroy me so many times, it was tragic. Could have been dead ... God said, 'No son, I won't have it.' Got back on my feet…"
He recalled his lowest point: a moment of time during his sophomore year after a bad breakup and rumors of physical abuse; being ridiculed online as the subject of a meme; lunches alone; problems at home; and all in an environment where drugs, guns, knives and physical fights were a daily occurrence, including the murder of a fellow student that same year.