Local rapper 'champions' anti-bullying campaign
MIKE McGEE | 12/17/2018, 5:57 p.m.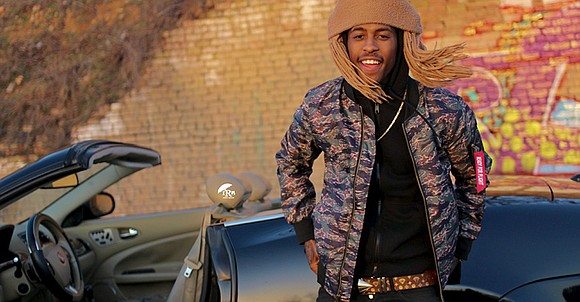 "The end of my school year I had the biggest death threat ever, and I had to be escorted by security… my mom came to pick me up."
He had to bring the threat to the school's attention, announcing, "I don't feel safe," since so much of the targeted aggression was done with the covertness social media provides.
Despite a daily horror so severe that he had to eventually transfer to the Cedar Hill school system, Fab continued to push through, reaching out past the pain toward his goals. It was his determination toward self-expression that helped the artist get by and keep fighting his fight. He recounted a stage near the end of his junior year when he realized the good in his life was going to win out over the bad.
"I overcame it through music, through projecting my emotions … through prayer and family, and just self-motivation and self-encouragement," he asserted.
Changing schools presented him with new faces, and Fab got to "set the tone" as he put it.
"I focused on my music, I started creating my brand, I didn't let anyone stop me, I realized that I was a king and whatever I wanted to do I could do it." By the time of his senior year he knew music would be his career, he said.
Fab's creativity comes from many sources. His cousin is famed recording artist Jody Watley. His mother was a traveling performer with Disney who was also on Broadway in The Lion King. His father played with Charlie Wilson of The Gap Band.
Aside from his family's influence, he also confessed that Maya Angelou reciting In and Out of Time in the film Madea's Family Reunion moved him to appreciate the power of poetry. He lists James Brown as inspiring his energy and performance style, calling him the ultimate music creator.
Along with his focus on his career, Fab is also an advocate for women, by encouraging men to refrain from violence toward the opposite sex, as well as any sexual behavior toward those under the legal age of consent.
"To all the women out there … and young girls, I want them to know, you are a queen and any man or any boy that does not appreciate, value, adore, who you are and what you are, what you stand for, does not deserve you," he remarked.
The musician even voiced that he later learned some of his bullies themselves were going through their own issues with school, or at home, even as they took a more harmful path to dealing with their problems.
"I understand the emotional turmoil that bullying causes because I endured it from middle school through high school simply because I was creative, unique and refused to follow the crowd," he said in a prepared statement. "Through my music and performances, I hope to encourage people to embrace the differences of others, while letting my light shine on those young men and women who may feel oppressed and misunderstood for just being their authentic selves."
He added that even in the middle of his own misfortune, he was still willing to counsel his peers who needed it and were open to his perspective.
"That's kind of what I'm looked up to for, besides my music, is for the person that I am," he affirmed. "It's tough. It's not always easy to do that, but you know, if nobody does it, then who is? Who's going to step to the plate and really just be here for people?" he wondered.
"Who's going to do it if the people who are actually going through it don't speak up?"
The young artist's full project, Heir, can be found on most major music streaming platforms. He has opened up for Lil Boosie, and is studying music at Cedar Valley College. He is scheduled to perform at Austin's SXSW in March 2019.