Trucker's Café offers food for the soul to those in need
MIKE McGEE | 12/28/2018, 4:03 p.m.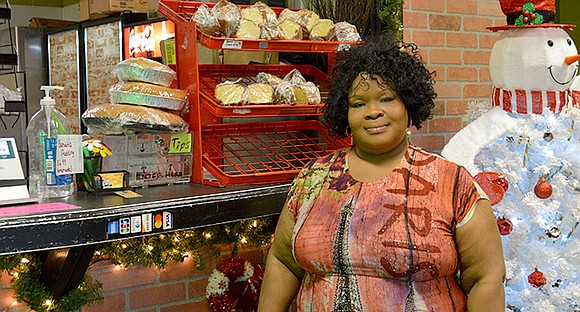 The Dallas Examiner
"My dream of assisting the homeless began after I lived in several domestic abuse shelters as a child with my mother many years ago," South Dallas restaurateur and volunteer Paulette Woods humbly began in a prepared statement.
Woods, along with her husband Marcel, is the owner of Trucker's Café at 1910 Martin Luther King Blvd. Part of her mission in serving the public includes opening her restaurant every year on Thanksgiving and Christmas to feed impoverished local residents.
Through Trucker's Food 4 Soul, her 501(c)(3) nonprofit established in June, the small-business owner also collects financial and material donations to serve the needs of those in the neighborhood. Woods also bucks the restaurant trend by closing her eatery between the peak hours of noon to 1:30 p.m. every Monday to provide free meals to those who would otherwise go without.
As homelessness increases nationally in major metropolitan areas such as DFW, and the number of Black individuals living on streets or in shelters averages the highest homeless demographic by three times, Woods said she has had the unfortunate blessing to achieve her dream consistently.
Despite the constant challenge to help others in need, she refused to back down as long as her faith held strong and her own similar experiences in a shelter remained fresh in her mind.
"It was kind of rough at times," she admitted about the past she and her mother endured. "We stayed in the women's battered shelter.
"When the parents – they had to take time for cooking and doing all of that – so I started baby-sitting for them. I started cooking."
She said she was 15 or 16 when she prepared her first dinner for the large group, which was spaghetti and peach cobbler.
She described seeing several injured women and hearing many of their stories as she attended the same classes and sessions as the adults.
"It was very hard. … I'm watching all these women in so much pain, so I thought, 'What can I do to help take that load off them?' because some of them [were] in there with broken ribs and couldn't hardly even get up or whatever."
After her success with the spaghetti dinner, the teen became an eager volunteer chef.
"Nobody taught me to cook. I just got in the kitchen, and I just took it upon myself to start cooking," she recalled. "I got the peach cobbler off a Crisco grease can."
Woods confessed the road from the shelter to a restaurant was not an easy journey, but she would not give up in achieving her vision of improving the lives of those in need. She was able to secure a loan while living in a housing project and worked a variety of jobs to generate a steady flow of income.
Eventually, a contact that Woods called Ms. Bourne provided a vacant business location where she could set up shop. Permits and a new grill were part of the package.
"She was like, 'Well, OK – why don't you just go ahead and move in my place and once you start making money then you can just pay me back monthly, plus the rent,'" she voiced.