Trucker's Café offers food for the soul to those in need
MIKE McGEE | 12/28/2018, 4:03 p.m.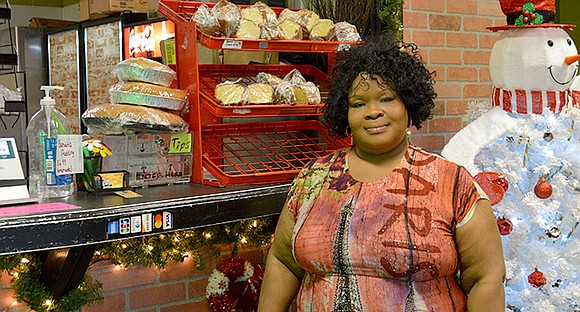 That first effort, called Safari Blue, eventually closed. After a while, Woods relocated her business to a nearby truck stop and called it Trucker's. After nearly a decade, their restaurant settled into its current location.
Originally, the couple and their daughter passed out air conditioning units, sandwiches and footwear in the summer to those in need. After the relocation to MLK Boulevard, she realized shutting down the restaurant on one day might better serve the most people.
"We just close down Monday and just reserve a day or so for the homeless and less fortunate parents that can't even survive out here on the income they're doing," she confirmed.
She noted that she has people show up from as far as Lancaster, DeSoto and Plano.
"I don't turn down nobody," she asserted.
Woods remarked that she knew she would always do such work, but she did pause to share the moment she realized that the labor she put into her community was unquestionably vital.
"I had a person that I actually took off the street," she said. "She was a child herself, having a baby and just cold, thin … I said right there. I'm fixing to do something to help. There's too many people out here; that could lead to just opening up doors to a whole bunch."
She and her husband decided to take the young woman into their home.
"And now she's doing good, got her a steady job, got her own place – and I probably help a lot of people in here, help them get a place and do all of that stuff, a job or whatever we can help in," she added.
Trucker's now has Facebook fans from as far away as Hong Kong who log in to witness its good works. Along with food, the restaurant is a focal point in the community for those in need of school clothes, backpacks, toiletries, trash bags, rain ponchos, soap and other items.
Trucker's has "adopted" 10 families for this holiday season and will host a Christmas party for them Dec. 23 with food baskets and toys for the children. The day after, the café will present an entire nursing home with house shoes, gowns and fruit baskets. On Christmas Day, Trucker's will feed 300 homeless men and women, as well as provide them with new shoes, blankets and towels, among other items.
But the entrepreneur might be taking a break soon. After two years at the current location, the restaurant may have to move again. The nonprofit CitySquare has purchased the entire strip that houses the café – including the former Black Forest Theater – and will convert the area into a community theater, children's classrooms and a recording studio, according to Woods.
She said she is considering opening a lounge or grill in the summer of 2019, as well as a food truck business. But the break from the restaurant business will not be a break from caring for those who are in need around her.
"We're just one and it takes a village," Woods considered as she discussed the donations she accepts at her business and online at https://tcfood4soul.org.
"Every little bit helps. We have a lot of homeless people out here. We've got a lot of people this month alone on the verge of being two steps off the street."