Childbirth is killing Black mothers
GLENN ELLIS | 2/5/2018, 9:43 a.m.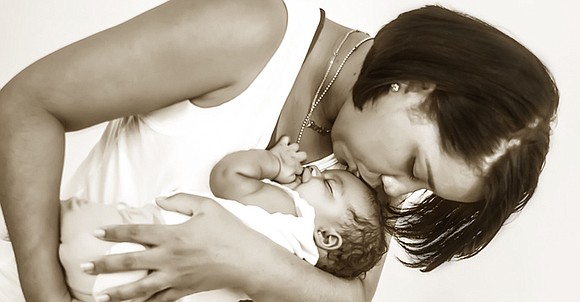 The Center for Disease Control points to the fact that 50 percent of pregnancies are unplanned. These pregnancies are associated with increased mortality for the mother and infant. Lifestyle factors (e.g., smoking, drinking alcohol, unsafe sex practices and poor nutrition) and inadequate intake of foods containing folic acid pose serious health hazards to the mother and fetus and are more common among women with unintended pregnancies. The CDC estimates that half of the women that experience an unintended pregnancy do not seek prenatal care during the first trimester.
Historically, Black women in low-income communities haven't had the same access to quality care as White women in high-income communities.
Those same factors shed light on disparities not only in maternal mortality but in obesity, hypertension, heart disease and overall health.
This is not a state-by-state solution to solving the problem of disparities. This is a national problem, and we all know it. It's always the elephant in the room in the United States that things are different for Black women.
In an ideal world, a woman would have the opportunity to have a visit with a physician before she becomes pregnant to identify any potential risk factors before she gets pregnant. Then a woman would enter prenatal in her first trimester. Unfortunately, African American women are the least likely to have that first trimester of prenatal care.
The U.S. spends more per capita on health care than any other developed nation – has one of the most sophisticated, technologically advanced health care systems in the world, but we still have inequities. Black women are still suffering from preventable maternal deaths. A human rights framework provides a road map to solutions.
Just being a Black woman in America comes with its own level of stress.
Remember, I'm not a doctor. I just sound like one.
Take good care of yourself and live the best life possible!
Disclaimer:
This column is for informational purposes only. If you have a medical condition or concern, please seek professional care from your doctor or other health professional. Glenn Ellis is a Health Advocacy Communications Specialist and is available through http://www.glennellis.com.
Stock photo
Photo courtesy of Getty Images
Create a foundation for the future
Family Features
Making sure your children are ready to take on the world as adults is arguably one of the most important roles of a parent. Now, more than ever, education is the foundation of that preparation.
As technology continues to evolve, it's important that children are learning, and also developing skills in high-demand areas, such as science, technology, engineering and math. A strong foundation of STEM learning is an important tool for the future, no matter the career path.
The experts at the America's Farmers Grow Rural Education program, sponsored by the Monsanto Fund, are aiming to raise awareness of the benefits for today's students, and partnering with farmers to award STEM grants that enhance programming at rural public school districts.
While nearly everyone has heard about STEM education in one way or another, some people don't understand its true value in school and in the workplace.