Sankofa Garden Homes: Heritage Gardening and African American History Month
2/11/2018, 6:12 p.m.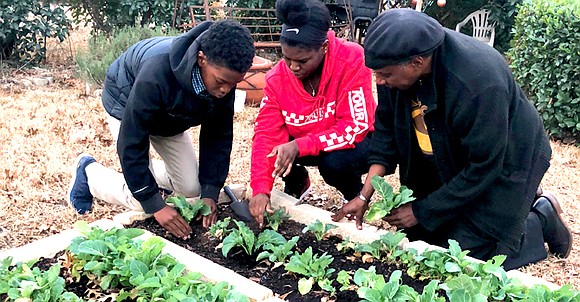 Heritage Gardening is not simply sharing how to grow food close to home, it is also about knowing how to harvest, prepare and preserve food. The byproduct of this knowledge will result in a healthier generation. It will also help to bridge the generational gap as elders and youth work together, each sharing their knowledge to inform both traditional and modern methods of gardening and farming.
As you began preparing for your Sankofa Garden Home be sure to include you children or children from your neighborhood in the process. Letting them help construct the garden beds, go to a home improvement store to select the soil and fertilizer, buying the organic non-GMO seeds and building a compost bed will all be learning experiences that will align themselves with many of the learning objectives in their school.
Research has also suggested that youth who are exposed to soil develop stronger immune systems and become better rounded emotionally. By working with adults in gardens they also spend quality time talking and sharing their emotions and building stronger family and generational bounds. It goes without saying that the lessons they are learning will last a lifetime and be shared with their children and generations to come.
African American History becomes alive when we as African American adults take the time to share our stories with our youth. As we engage in Heritage Gardening we are not only growing food, we are growing minds and bodies. As we grow, harvest and prepare food together, we are reconnecting with family and community bounds that make our culture stronger and more lasting.
When we return to the days when African American elders, parents, infants, youth and young adults, shared a common table of food raised by the family, we can share family history and traditions and build stronger bounds of communication. We can set aside cell-phones for a while and reclaim the authentic art of face-to-face family and friends communicating.
Let's make history together this African American History Month 2018 and start a Sankofa Garden Home and engage in Heritage Gardening. African American adults, elders and youth are waiting to meet up in the garden. So let's get back to the garden and come to know what our ABA – or Africans who Built America – ancestors knew that the garden is actually where life begins and the legacy lives on!
Until next month, Happy Sankofa Home Gardening!
For information on gardening and harvesting, e-mail clarenceglovejr@aol.com.