Black athletes have long history of not sticking to sports
ERRIN HAINES WHACK | 2/12/2018, 9:05 a.m.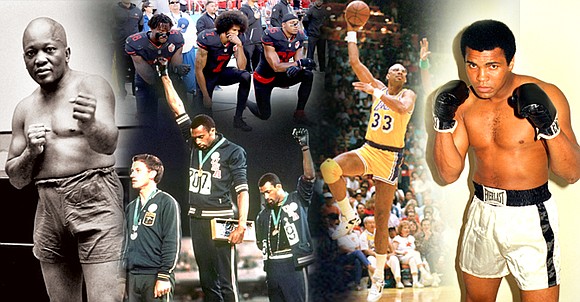 Abdul-Jabbar, who at 70 represents a bridge between Ali and Kaepernick, went on to a storied NBA career, but Smith and Carlos returned home to the threat of having their medals taken, and faced difficulty finding coaching jobs.
"It was an international stage that was being used to promote how unified and wonderful the world is, but Black Americans at that point were still in a very tough struggle to obtain their rights, both human and political," Abdul-Jabbar said of the 1968 games. "The fact that (Smith and Carlos) used an international platform to speak for people who usually don't have any power to be heard made it all the more significant."
Carlos said Mexico City was the only place he could've made such a statement.
"At that time, for me, there was no other vehicle than the Olympic Games," he recalled. "I felt like the humanitarian issues at that time, as well as the humanitarian issues of today, are more compelling to me than an Olympic medal. I love the Olympics and I love sports, but I love a just cause for humanity even greater."
It is a sentiment shared by NFL players.
The killing of mostly unarmed Black men by mostly White police officers sparked the Black Lives Matter movement, which has again drawn Black athletes into the national conversation on race. The sideline protests in the NFL – started in August 2016 by Kaepernick – have been the most prominent display of players' engagement, though Black athletes in baseball and basketball have also had smaller displays of activism.
Because sports are such a prominent aspect of American life, they remain an effective way to bring attention to issues of racial injustice.
"This is our inheritance," said Howard Bryant, senior writer at ESPN and author of the forthcoming book "The Heritage: Black Athletes, A Divided America and the Politics of Patriotism."
"You're not allowed to check out," Bryant said. "This is going to continue until the United States respects the Black brain more than the Black body. Then sports can go back to what it was supposed to be – just a game."
Media – and social media in particular – has helped in recruiting athletes to the cause, explained Color of Change Executive Director Rashad Robinson, whose online civil rights organization has joined with athletes in addressing systemic racism and mobilized its membership to boycott the NFL and its corporate sponsors.
Such stands have often come at a cost, even for today's players, who are far more prominent and wealthy than their predecessors. Like players who spoke out before them, they have been met with violence and vitriol, described as unpatriotic, ungrateful and disrespectful.
"The public is used to Black guys selling sneakers and making jump shots," said Bryant. "Do White people want to hear what Black people have to say? No, they don't. Does it need to be said? Yes."
Abdul-Jabbar agreed, tying Ali's fate to Kaepernick's as two athletes who sacrificed their livelihoods at the height of their careers for a greater cause.
"Anybody that knows anything about football will tell you that he is a talented athlete and should be on somebody's team," Abdul-Jabbar, author of "Becoming Kareem: Growing Up On and Off the Court," said of Kaepernick. "I think he's being Blackballed."
But with the cost are also benefits. Using the universal language of sports as a platform to discuss race reveals racism and galvanizes support to end it, Robinson said.
"Part of why people are paying attention is because of exactly who they are," he said. "Throughout time, it has been the people with reputations and something to lose whose risk-taking has helped result in change."
Pat Graham/The Associated Press contributed to this report.