A broken system: Behind the bars of Texas prisons – Part 3: The taxpayer's cost
MIKE McGEE | 2/12/2018, 9:02 a.m.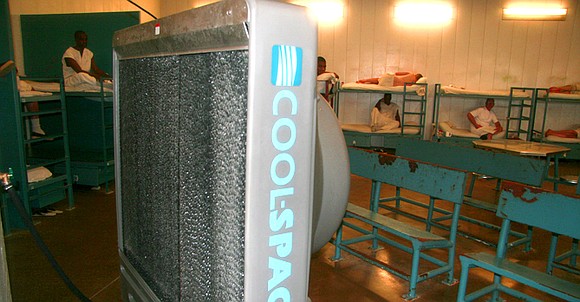 "Sad to say, the majority of changes that I think would be implemented would be because of something in a negative way; something bad that would happen, like, 'We have to change that. That can't happen again so now we have to do something completely different,'" remarked Joe Salinas, 42, a former TDCJ officer who is now a documentary filmmaker in California.
Salinas, who worked as a correction officer from 1994 to 2001 beginning when he was 18, was employed in various departments and units as he moved up in rank, witnessing a sluggish change from 1960s and 1970s-era prison policy to a more modernized system. Still, he said even then, there were improvements that needed to be made.
Air conditioning has continually been one of those legal sticking points.
"It would be so hot inside those buildings. If it was 100 degrees outside it's 110 in the buildings," confirmed former inmate Shirley Southerland, who served 26 years in numerous units for murder before being paroled and beginning her exoneration process. Southerland discussed some of what she saw when it came to the heat and prison farm work teams.
"They would take the girls out on hoe squad, and if they laid it down – which means they stopped working – they would put them in a cage and leave them there. And water rations was next to nothing. I was one of the ones that fought for having … ice water to be put in the dorms," she asserted. "Now that went up into Judge Wayne Justice's court and they were supposed to do this three times a day, or they were supposed to keep the water barrels full. These officers, they got cold water, they didn't care."
Her reference to U.S. District Judge William Wayne Justice also recalls the case Ruiz v. Estelle where Justice ruled in 1979 the incarceration conditions in TDCJ were unconstitutional. After that judgement, prison reform slowly came to Texas.
"We had all the duct work in these buildings where they were supposed to be air-conditioned, and the money was paid where it was to be air-conditioned, but where that money went, nobody knows," Southerland recounted.
"So, when Justice passed that, they spent $750,000 and what? Air-conditioned the pig barn because William Wayne Justice did not specify what buildings. Your tax dollars air-conditioned the pig barn," she laughed.
The air condition argument has been seen by many as a result of the Ruiz case in terms of what is cruel and unusual punishment.
In what began as a 2013 civil rights lawsuit after four prisoners died of heat stroke, U.S. District Judge Keith Ellison ordered the state to disclose the number of heat-related deaths since 1990 in Texas prisons. At least 13 inmates held by the TDCJ died due to heat since 2007.
In response to the lawsuit, John Whitmire of the Texas House of Representatives, told The Houston Chronicle in 2014, "We need to have a grown-up discussion of what's practical and reasonable and what's politically acceptable … But I can tell you, the people of Texas don't want air-conditioned prisons, and there's a lot of other things on my list above the heat. It's hot in Texas, and a lot of Texans who are not in prison don't have air conditioning."