Monday Night Politics - Meet the Candidates features candidates for judicial, criminal and family court
DENISHA McKNIGHT | 2/12/2018, 8:59 a.m.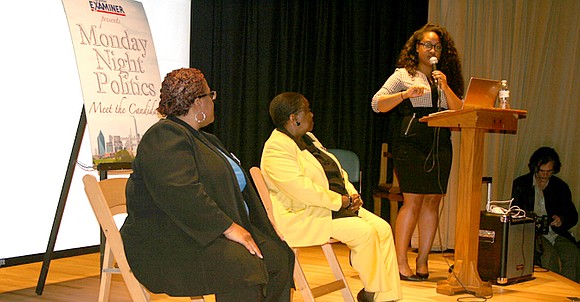 The Dallas Examiner
Monday Night Politics: Meet the Candidates, presented by The Dallas Examiner, Jan. 29 to the African American Museum featuring candidates participating in the March 6 Democratic election.
The forum commenced with candidates for Family Court District 255: incumbent Kim Cooks and Sandre Moncriffe. Cooks initiated the discussion detailing her 2 year run as the current district judge.
"When I ran in 2013, I ran on the platform of mending the broken family and that is exactly what I have done," she said. "I have done an excellent job. My record speaks for itself as far as dispositioning cases and as well as the budget of saving you as Dallas County residents money."
Moncriffe presented her platform after discussing her extensive 17 year career as an attorney in family law.
"[My] platform is very simple: fair, effective and efficient," she proclaimed. "That is absolutely what I believe as a justice system as well as judges ought to be. Judges ought to be fair, effective and efficient meaning your cases need to be heard in a timely manner and you have a right to be treated fairly."
Audience members took advantage of the opportunity to question each candidate about their stance on various political and community issues.
Q: What are your general judicial philosophies?
COOKS: My general philosophy is that the doors of courtroom should be open to everyone so that everyone is treated with dignity and fair and that we are there to serve and help everyone. I absolutely love serving the community and that translates to love serving the community on the bench. I make sure that if there is counseling needs, financial needs and everything else is met. I make sure the family is whole because I believe in mending the broken family.
MONCRIFFE: My judicial philosophies are simply put based on my platform: fair, effective and efficient. You have a right to be heard and to an equal playing field no matter who's on the other side of the case. My other judicial philosophy is that judges should recuse themselves when there are clear conflicts of interest. It serves no one for judges to preside over cases involving family members, best friends and ex-law partners. Those things serve no one. Those are some of my judicial philosophies.
Q: How do you handle gender bias as judges, especially in custody battles?
COOKS: There are no biases in the 255th court. Each parent is treated equally based on the facts and evidence. A father can end up with the custody of a child. A mother can end up with the custody of a child. It's all depending on the facts of the cases. Everyone will be treated with fairness and dignity as they always have been in the 255th.
MONCRIFFE: As I have been out on the campaign trail that has been one of the top questions I get asked, specifically from men. Often times men feel that there is a presumptive bias against them in terms of custody. As a parent myself raising children with a husband, I believe in the rule of two parents raising children. So I firmly believe that whoever shows up to court, makes the best case and is clearly in the child's best interest to where that child ought to be should be the determinant factor as where children should be placed, not based on the gender of the parent.