Monday Night Politics - Meet the Candidates features candidates for judicial, criminal and family court
DENISHA McKNIGHT | 2/12/2018, 8:59 a.m.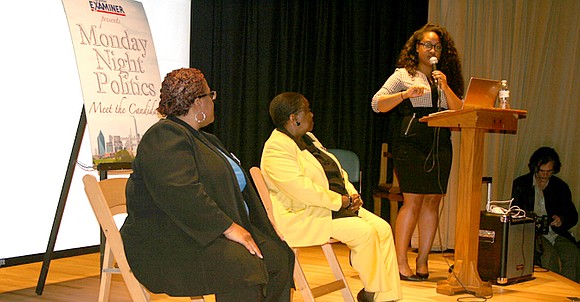 Q: Moncriffe, why are you challenging the incumbent in this race?
MONCRIFFE: There were a number of issues, which I have mentioned earlier about recusal. Judge Cooks has presided over her ex-law partner's divorce where he represented himself. That was a serious conflict of interest where Judge Cooks should have recused herself. Judge Cooks has also presided over cases involving her personal attorney who represented her in her own child custody matters. Those are issues that should have been disclosed to the parties in the case, and they should not have had to pay their attorneys fees to ask Judge Cooks to recuse herself from the cases.
COOKS: To begin with, I never had a law partner. You can look my law office up on the Secretary of State [website], it is the office of Kim A. Cooks and I've never had a law partner so I don't know where she's pulling this up from out of the air. Second, it was disclosed that the attorney represented me, and the person said they wanted to go ahead and go forward. So, once it's disclosed they can file a recusal, and if the recusal goes through it goes through, if not then it does not go through. One of the things that is important to know is when I talked about work ethic you have to have excellent work ethic in this court. I have pulled a dismissal law in family court and it talks about a 30-day rule for dismissal.
Cooks passed out papers to audience members.
Q: Why should millennials vote for you?
MONCRIFFE: It matters who sits on the bench in any of these courts. For example, family court is the most likely court you will come in contact with. If you don't have a criminal case and you are not suing anyone, you could wind up in a divorce or fighting for custody of a child. So, in that sense, family court is very important. For yourself as a young millenial, the earlier you become engaged in the voting process and picking who your elected officials are the better it will be for you because it sets you up for a life-long love of learning, understanding politics and doing politics before politics does you.
COOKS: Family court is very important for you to vote on, especially local elections, because they're going to impact your life instantly. You can come in the court today with custody of your child and walk out and not have custody before your child gets out of school. So that's why it is important to know whos sitting on the bench and who your judges are. One of the things I started to answer was about work ethic. Work ethic is very important in family court because it is going to impact your life instantly. That rule that I am showing you is 30 days you need to put in a court order. There is this record I want to show you of how unacceptable and egregious the timeline was when Mrs. Moncriffe was working in the DA's office of which she get orders in.