Monday Night Politics - Meet the Candidates features candidates for district court judge positions
DENISHA McKNIGHT | 2/12/2018, 7:44 a.m.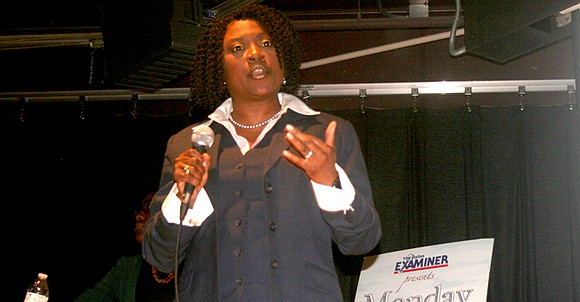 The Dallas Examiner
The Dallas Examiner presented its third Monday Night Politics: Meet the Candidates forum Jan. 22 highlighting several candidates for district court judge positions.
The event commenced with the nominees for district judge for Judicial District 68: incumbent Martin Hoffman, Amanda Ghagar and Kim Brown. Brown was not present.
Hoffman kicked off the discussion with a formal introduction of his plans to ensure a strong Democratic presence in the justice system.
"The Republican Party is going to do anything that they possibly can to disenfranchise us and divide us from voter identification to all these lawsuits we are seeing," he said. "I have the utmost respect for [my opponents]. They're both Democrats, and if I win the primary, I hope they support me and [vice versa], and I think we should all make that same play because the only way we [Democrats] got elected in 2006 was by being unified, organized and taking it to the Republicans."
Ghagar followed by revealing her plans for refinements to the judicial system.
"As a judicial candidate, I think that we can work harder to build bridges into the legal profession and the judiciary for underrepresented groups," she stated. "If elected, I am committed to developing a broad range of programs that will give opportunities to young kids and first-year law students and young lawyers."
After introducing themselves, the candidates answered questions provided by audience members about their campaign priorities and political opinions.
QUESTION: What is your vision for the future of the judicial system, and what changes do you advocate for and why?
HOFFMAN: One of the things that are important for judges – civil, family or criminal – is sometimes you need to think outside the box and think about how to help people. Some of the things I've done over the last 11 years is I have created a program for foreclosure mediation where I have given every homeowner a voice in the foreclosure process from start to finish. They have a opportunity to have a hearing, get free credit counseling, learn different options and go to mediation – and we have saved dozens of homes that way. Thinking outside the box and coming up with solutions is good for the citizens and what the future is about.
GHAGAR: I think we do a better job cultivating a love for the law and a sense of belonging for underrepresented communities. First, when I was a worldwide pro bono lead for Hewlett-Packard, I oversaw 50 attorneys that delivered 100 hours of pro bono service and met with elementary kids. Given my background, I wasn't surprised to see most of these kids had met lawyers through the criminal justice system. If I am elected, I will rally attorneys from both sides of the bar and my colleagues on the bench to go into elementary schools and get to know these kids and let them know this is a path forward, and if they are interested, there is a seat at the table. Secondly, for underrepresented groups, first-year law students I would like to clerk with them, and we'll also work on the soft skills of walking into a room where a bunch of people are in suits and let them know they belong there and develop a sense of confidence so that they are able to leverage natural leadership skills.