Monday Night Politics - Meet the Candidates features candidates for district court judge positions
DENISHA McKNIGHT | 2/12/2018, 7:44 a.m.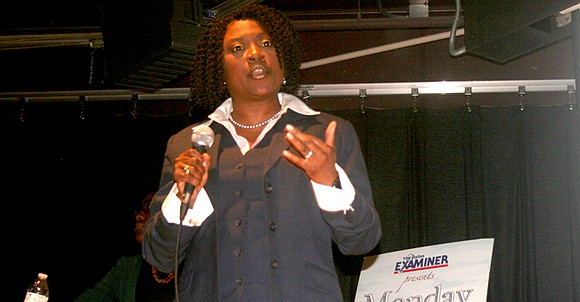 Q: Last month on Christmas Day, Dallas Morning News posted an article stating "Four White Dallas civil court judges facing challenges from Black and Hispanic women in the Democratic primary encourage White women to join the races, a controversial move that can divide the female vote and boost their chance of winning." Can you please give further context and thoughts to those who are questioning that tactic?
HOFFMAN: I didn't agree with everything in that article. I don't think it was completely accurate. I have utmost respect for both of my opponents in this race. There was an allegation that was made that the male candidates somehow felt like the female candidates were not qualified. What I have said to my opponent in the Dallas Morning News was I felt that this was a civil bench. I am a civil judge. I've spent the last 25 years of my career working on civil cases. My opponent, who is not here, is a family lawyer. I'm not criticizing her. I think she would be a good family law judge. She just isn't specialized in civil, and that's what I felt was problematic about her running.
GHAGAR: It hurt my feelings when I read the article. I've spent my free time advocating for a seat at the table for everyone and the right to be a full equal participant, so it hurts my feelings to have that come out. In the editorial, when they called me "bright and enthusiastic" – which is what you call a 4-year-old child – and literally disregarding my years of experience in the courtroom that also hurts me on a fundamental level. I only ask to be judged on my qualifications and my experience.
Q: What [are] your thoughts on courts dealing racial and gender bias?
HOFFMAN: One of the things I've done my entire career is trying to act out and promote diversity with everything I've done. I was president of the Texas Young Democrats. When I was president of TYD, there was still a split between conservatives and the progressive wing of the party. I developed the minority caucus of TYD. I also served as president of the Dallas Homeowners League, which is a citywide organization where we formed our first Southern Sector neighborhood fair. Recently, I was awarded the Cleo Steele committed mentor award for working with minority interns. It's something that is fundamental to me from where I started out as an attorney to where I am now.
GHAGAR: I'm part of the Texas Minority Counsel program today. I'm passionate about it. Every opportunity I have had to hire council or asked about job opportunities with all things being equal I prefer to give the opportunity to a woman or a minority because there aren't enough of us in the profession. The way that you change that is you elect people in power and then those people wield the little power they have to give opportunities to people so everyone has a seat at the table and the opportunity as a full equal participant.