Monday Night Politics: Meet the Candidates featuring candidates for criminal, family and district court
DENISHA MCKNIGHT | 2/19/2018, 5:40 a.m.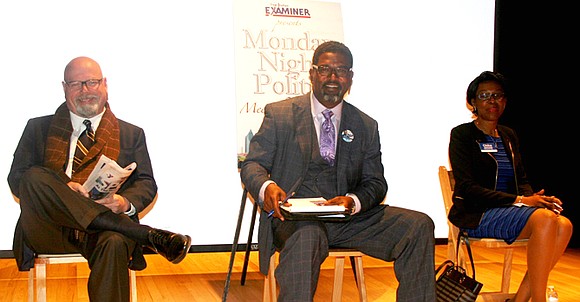 The Dallas Examiner
Monday Night Politics: Meet the Candidates, presented by The Dallas Examiner, highlighted the Democratic candidates running for criminal court, family court and county court at law positions in front of a packed crowd at the African American Museum, Feb. 5.
Candidates aiming for Criminal Court No 6 kicked off the political forum with incumbent Jeanine Howard and Alison Grinter. Howard started off by introducing herself and her qualifications for re-election.
"I'm a very fair and compassionate judge," she said. "I'm ethical, respected, thorough never rushed to judgment and listen to details of every case. I hope I've made a difference and I want to continue making a difference in Dallas."
Alison followed by introducing her qualifications and personality to the audience.
"I'm a 12 year veteran criminal defense attorney and I'm board certified, [which] only 3 percent of lawyers are," she said. "In a felony court, you want three things on the bench: someone who knows the law, the people and employs the law with compassion and respect to hold the public's trust. You need someone who is humble, out with the people and gets to know the folds that they are dealing with."
Shortly after, audience members took advantage of the opportunity to ask the candidates questions about their judicial experiences.
QUESTION: What is the future of the judicial system to you and what changes do you advocate for?
GRINTER: The elephant in the room of any discussion about the felony courts right now is bail reform. We have to have people not staying in jail just because they're poor. Because, frankly, you have a different set of rules when you're in jail. People make decisions and choices that we write down are voluntary and knowingly involuntary. When you're in jail, you're going to make decisions to get out of jail and that leads people to having criminal convictions that haunt them for the rest of their lives. If they had the time and ability to exercise their rights, they wouldn't have – and I think we all know somebody who has – a criminal conviction that they took to get out of jail. So we have to have individualized criminal assessments that judge whether people are a risk to the community or a risk to a recidivat.
HOWARD: I think the judicial system is in a good spot right now. There's debate on whether or not judges should be elected or appointed by the governor and I'm personally in favor of judges being elected so the people have a voice in who they have. I do think that judges should, especially criminal judges, have the experience on both sides before they are elected judge – criminal defense work as well as prosecution. I know that's not an requirement. I do have that. In fact, I have also done appellate work, which I have done 200 appeals [that were] published in law books. I have the advantage of having that experience to help me as a judge. Those are just extra added things that should be [required] because you can see the big picture when you've done it from both sides.