Wakanda: African fashion on display at Black Panther shows
KRISTIN M. HALL and JOHN CARUCCI | 2/26/2018, 5:01 p.m.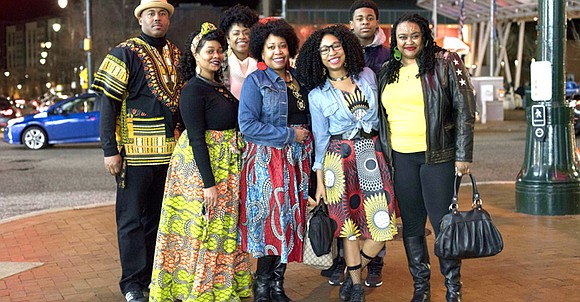 Kiara Citron, who is a huge Marvel Comics fan and had a Deadpool-themed wedding, was at the same theater and wore a bright blue satin gown she spent a week sewing, using some leftover fabric for a matching head wrap.
"I just made something for the occasion because I've never had an opportunity for this before," she said. "I've never gone to a theater to see a film like this before, so I just really needed to go all out."
In Nashville, Latarsher White and her family wore custom-made African gowns and suits to a Nashville theater because it made them feel connected to their heritage.
"It's just an opportunity to explore those regal roots and to know that some of us do come from royalty," she said. "It's bigger than what we see every day and what's represented. It's just connecting to your heritage and that royal lineage to a degree. And so it's always good to play dress- up."
Kermit El-Amin, 25, wore his African tribal prints to work before watching the film in Nashville.
"I wanted to make sure that people knew that I really felt comfortable," El-Amin said. "Feel comfortable in the skin that I am in and feel comfortable doing things like this."
Ronald Simmons, founder of YouDontReadComics.com, sported a Black Panther T-shirt to a Times Square show Thursday night. He said he expected Black Panther to be life-changing for many fans, especially children.
"If I was a kid, and I saw Black Panther, that would have been great," he said. "I grew up in a lot of heroes and none of them look like me at all. And I still love those heroes, but I can imagine being a kid and seeing, you know, a character that looked like me. I would be pretty hyped."
Rick Taber, John Carucci and Kristin M. Hall/Associated Press contributed to this report.