Dr. Martin Luther King Jr. celebrated in Dallas
The Dallas Examiner | 1/14/2018, 7:27 p.m.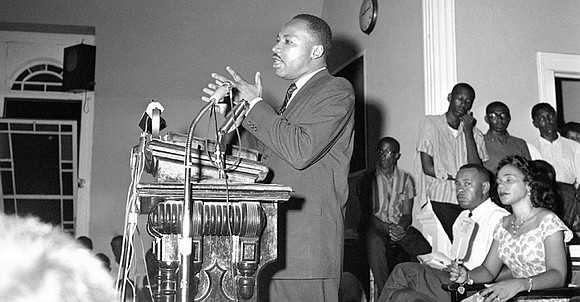 The Dallas Examiner
Dr. Martin Luther King Jr. birthday celebrations will be held throughout Dallas to commemorate King's life and legacy. Events will take place from Friday to Monday. From a parade to educational exhibits, many events are free and open to children and adults alike. Other events, such as banquets and concerts, will require participants to purchase tickets. Over all, the goal of each event is to bring the community together in an effort to realize King's dream for a better future for all.
City of Dallas celebrates Dr. Martin Luther King Jr.
The city of Dallas will host a series of events from Friday through Monday to celebrate the birthday of Dr. Martin Luther King Jr.
The MLK Celebration Fair will be held Friday from 11 a.m. to 2 p.m. at the MLK Center Recreation Center, located at 2901 Pennsylvania Ave. The event is free and will feature career opportunities, free medical screening, vendor booths, college professionals and resource services.
The MLK Candlelight Ceremony, hosted by Alpha Phi Alpha Fraternity Inc., will be held Friday from 7 p.m. to 9 p.m. at the MLK Recreation Center, located at 2901 Pennsylvania Ave. Dr. Frederick D. Haynes III, Senior Pastor at Friendship-West Baptist Church, will be the keynote speaker. During the ceremony the Alpha Phi Alpha Fraternity Dr. King Scholarship awardees will be named.
The 36th annual MLK Awards Banquet will be held Saturday at 6:30 p.m. at the Hyatt Regency Hotel. The theme for the evening is "Reflect on yesterday for a better tomorrow." Doors open at 5:30 p.m. The speaker will be Rev. Dr. William Barber of the Poor People's Campaign in Raleigh, North Carolina. The Life School Oak Cliff Honor Choir will provide live entertainment. Attire is formal, black tie. Tickets can be through 214-670-8418, info@dallasmlkcenter.com or http://www.dallasmlkcenter. com/mlkcelebation.
The MLK Annual Parade will be held Monday at 10 a.m. at the intersection of MLK Blvd. and Holmes Street in and ends at Fair Park in South Dallas. About 250,000 or more attendees are expected for one of the largest such parades in the country. District Attorney Faith Johnson and Police Chief Renee Hall will be the grand marshals.
Rep. Eric Johnson's MLK Day Mega Block Walk
Rep. Eric Johnson will host a MLK Day Mega Block Walk on Monday from 2 p.m. to 5 p.m. The walk will begin at 3001 Al Lipscomb Way. Individuals interested in participating can call 682-559-4062 or email info@johnsonfortexas.com.
Upon registration, participants interested in also walking with Johnson during the city of Dallas' MLK Annual Parade on Monday morning can register for both walks.
TBAAL honors Dr. Martin Luther King Jr.
The Black Academy of Arts and Letters will commemorate the life and legacy of Dr. Martin Luther King Jr. during a full weekend of programs from Friday through Sunday during his national birthday celebration.
Events will include programs for students, a reception to celebrate an Emmy Award, a live concert and a post-concert reception.
The weekend festivities kick off Friday at 10 a.m. with an educational mini-student performance of the 35th Annual Emmy Award-Winning Black Music and the Civil Rights Movement Concert on the Naomi Bruton Mainstage, located at 1309 Canton St.