Re-Imagine Red Bird: South Dallas mall development is more than just a project
Special to The Dallas Examiner | 7/4/2018, 2:18 p.m.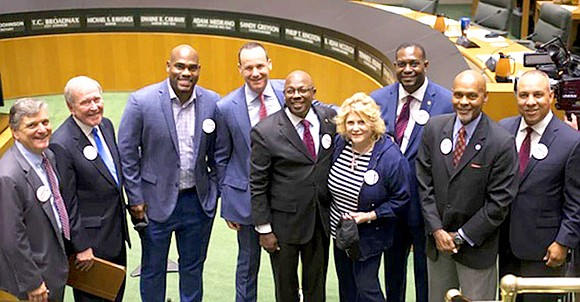 The strategy to regain consumer interest is to return the mall to a center of quality and to redesign it to fit with current market demands. Some changes will include: a one-acre lawn for community gatherings and events, enhanced dining and shopping, and existing buildings will be repurposed as office buildings.
Other speakers in support of the project included Dallas entrepreneur Bobby Lyle, President of Regional Black Contractors Association John Proctor, and Dallas County Commissioner John Wiley Price.
Council members also weighed in, supporting the project.
Tennell Atkins, whose district includes Red Bird Mall, outlined all the work Brodsky and his team had done. Stacking four large binders that included his 2,000-page application, Atkins explained no other company or individual had ever been asked for such details.
"Brodsky did everything the city asked … there have been hundreds of millions of dollars going North [that] never went through this. But he went through it. When he went through it, he came back, he did everything they asked him to do," he said. "We're not giving him anything. He earned the money. This is taxpayer money."
He said the mall was not a charity case; the redesign is for the future of the community. He referred to Dallas as a "Tale of Two Cities," as the struggling South looks at the money being invested in the thriving North.
Atkins then summed up the hopes of the community and the importance of this City Council vote.
"We have been waiting a long time for the opportunity to bring Red Bird back to its rightful place as a high-quality place for southern Dallas families to shop and gather," he concluded. "Now is the time."
Construction is expected to begin January 2019 and completed by December 2014.