Influence, the power to change
MIKE McGEE | 7/17/2018, 1:55 p.m.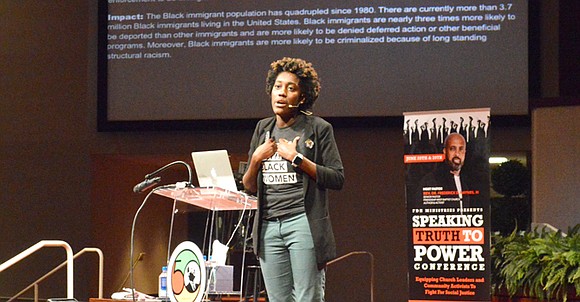 The Dallas Examiner
Clad in a "Stand With Black Women" shirt, Mercedes Fulbright, the Texas State Coordinator at Local Progress, commanded attention during her engagement entitled, Deserving and Entitled; Engaging in Public Policy to Empower People, as part of the annual Speaking Truth To Power community activism seminar at Friendship West Baptist Church, June 29.
Fulbright approached several topics that have affected the African American communities of Southern Dallas – police, education, employment, immigration links to the Africa diaspora, and more – all to drive home her main point: to change the status quo for the better, individuals must get communally involved, and through that political and social changes will occur.
"Politics affects everything around us," Fulbright declared in the most basic terms of why participation in the larger system is important. The cost of living versus the minimum wage … Companies that decide what neighborhoods get high-speed internet access …
"Politics dictates what you eat and drink and how much it costs," she continued, occasionally asking the audience for examples of what they have experienced when it came to how official policy has affected life around them – such as food deserts; the cost of a monthly water bill; or the number of liquor stores allowed in a neighborhood, relating to the food and drink topic she introduced.
She also noted that cultural political pushes have often lead to a grassroots private or public reaction. One example Fulbright cited was the Parents Music Resource Center, a bipartisan committee of Washington, D.C. wives who were a force in the 1980s as it increased parental control over music they deemed too sexual, violent or otherwise objectionable. Labeling records and prosecuting groups such as 2 Live Crew and The Dead Kennedys were rooted in the PMRC's efforts.
Fulbright affirmed that, as a result of the PMCR's growing power, Rock The Vote, a progressive, nonpartisan organization was formed in 1990 to get people aged 18 to 24 involved in the voting process through MTV and other pop culture outlets. Bill Clinton was able to win the 1992 presidential election in part by garnering 46 percent of the 18-to-24 vote versus the 33 percent for incumbent George H.W. Bush and 21 percent for Ross Perot, according to the Roper Center for Public Opinion Research.
That is the power Black voters have in every election, and with their representatives in-between elections, as long as they stay active and engaged, the speaker underscored.
"This week has been hell…" she declared as she brought up the June 27 Supreme Court decision on Janus v. America Federation Of State, County And Municipal Employees, Council 31, Et Al. regarding union payments and compelled speech, which Fulbright said would "gut" labor unions; she also decried the June 26 "Muslim ban" decision of Trump, President Of The United States, Et Al. v. Hawaii Et Al.
"This week has been a living hell, every single day. And then Justice Kennedy is retiring," she lamented.
She also discussed the unfair housing practices that the G.I Bill of 1944 legally set up against people of color to show how policy can impact lives and creates lasting roots of injustice within society.