Influence, the power to change
MIKE McGEE | 7/17/2018, 1:55 p.m.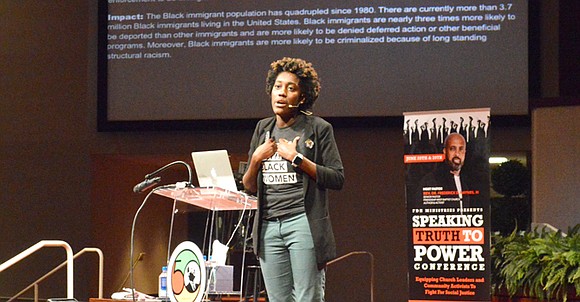 In review, Fulbright illustrated that listeners needed to explore the origins of the ills within their communities and to act with political wisdom to alter the course of their future. The people who are not impacted daily by policy are the ones who have the power of making policy, she confirmed, "…Federally, state and locally. And we have to change that."
A subset of such action included innovation, she pointed out, as she introduced the concept of participatory budgeting as one method being used in cities, such as Chicago, to make sure the citizens are players in their own government rather than apathetic spectators.
"It allows taxpayers and residents in a city to decide either all of the budget or a portion of their public city budget," she said.
"You have an opportunity to decide where that money goes," Fulbright expressed. "Cities like New York, they actually give their residents about $1 million to decide where their money should go. Do you want it to go to more policing? Do you want it to go to parks and rec? Do you want it to go to the streets? These are the priorities of our city, and the budget should represent that."
Boston has even let young people decide the yearly use of $1 million, which gets more people politically involved at an earlier age, she pointed out. Dallas may soon try a similar budgetary system.
"I would love to see that at the city council level. Conversations are being had," Fulbright said. "These are not things that don't exist. These are policies that are happening in cities just like ours."
The guest also urged attendees to consider what their ideal society would look like if all their demands were met, and challenged them to consider what the root problems were that has prevented them from currently having those varied visions of political perfection.
Yet, Fulbright also asked for caution for those who seek equality, but use the same vocabulary as White oppressors who have always held political control.
"I recognize that our country is founded on and rooted in White supremacy," she offered, underscoring that much of the work residents do for themselves is done in what she called an "individualistic" approach.
"Corporate greed, sex, stolen land – all of that. It's about individuals," she added as she admitted she preferred to espouse a collectivism formula in political engagement for the marginalized. It is why she treaded with caution and asked, "Who are Black people? or discussed immigration as more than simply an us-versus-them abstraction, "… because we also recognize how U.S. policy has spread us apart around the world.
"And so I get fearful when we take White supremacist ideology about how to approach liberation, and not put collective 'liberation' in front of it. We've got to stand firmly. I will say racism, from what I know, is rooted in anti-Blackness."
She also pointed at the current "Make America Great Again" administration as an example of why collective engagement is so important to a community.
"If we're honest, if you want to live in a different country that isn't democratic, I wish you luck," she decreed, emphasizing how important it has been to live in a country where active, voting citizens could decide the course of a nation.
"It looks like we're going toward Fascism, and I don't want to live in that country, and so that's why it's important that spaces like this are created," she said. "Because it's a real thing, and I'm naming it. I'm naming it right now. We did it - we're going down that path.
"We have to think about these things. We have to be serious about it. The personal is political."