Mind, Body and Business: The foundation of Black female entrepreneurship
DENISHA McKNIGHT | 7/17/2018, 1:52 p.m.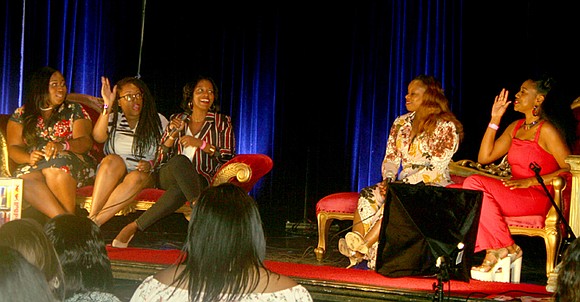 The Dallas Examiner
Women own 30 percent of all businesses in the U.S. – with Black women becoming the fasting growing economic force owning 14 percent of U.S. businesses, according 2015 State of Women-owned Businesses Report conducted by American Express Open.
African American women are quickly gaining economic power in the nation, but still encounter hurdles such as discrimination, lack of resources and capital, along with balancing their personal lives, which may discourage other groups of aspiring entrepreneurs.
During the Inspire U Fest, June 2, a multitude of successful Black female entrepreneurs gathered at the Quixotic World event venue to provide solutions to issues many minority entrepreneurs face today.
"I started Inspire U Fest because I felt like there was a need in the city of Dallas to bring women from all walks of life together to learn, so we can get educated, have a girls day and learn how to be a better woman and entrepreneur," said Sabeina Harris, Inspire U founder and CEO of A Seat at the Table branding agency.
Each panel broke down various aspects of Black entrepreneurship from health and wellness to social media marketing to starting a business.
Mind and body
The most important thing throughout a businesswoman's journey isn't just the money or the business plan itself but the health of the woman. After juggling family life, a regular work schedule, and entrepreneurship, most women are mentally and physically drained from their busy lifestyle, according to life coach Chanique Leggins.
"Make sure your health is your number one priority," she said. "Make sure you take good care of yourself because your body is what transports you to your vision."
The leading causes of death for African Americans is heart disease, cancer and stroke, which could be attributed to stress, unhealthy diet and lack of exercise, according to the Centers for Disease Control and Prevention.

These ailments could be factor of what Black women put into their bodies and what they place on their bodies. Makeup products, laundry detergents and hair products have toxic ingredients such as BHT, PEG and alcohol that could damage your health over time, according to the presenters.
"A lot of the products they're using has parables in them, which is causing breast cancer and skin cancer," said Dr. St. James Limoges, life coach and MindTKO Academy founder. "So we have to start finding products that will still allow us to be beautiful on the inside and out."
Despite entrepreneurs' many responsibilities, the festival speakers asserted that putting yourself first is essential for a successful business.
"Yes, I work multiple businesses and also work [for] corporate America but if I'm not healthy and not together, none of this can be possible," Harris said.
For women who are on-the-go, Dr. St. James suggested incorporating a short self-care routine somewhere in women's busy schedule that would improve her wellbeing along with regular checkups and healthy practices.
"God gave us 24 hours in a day," St. James said. "It only takes 15 minutes to take care of yourself. All you need is a 15-minute regimen. If you do a seven minute exercise, which will bring up your heart rate, and then a 7½ minute exercise in regards to your physical being, then who doesn't have 15 minutes?"