Mind, Body and Business: The foundation of Black female entrepreneurship
DENISHA McKNIGHT | 7/17/2018, 1:52 p.m.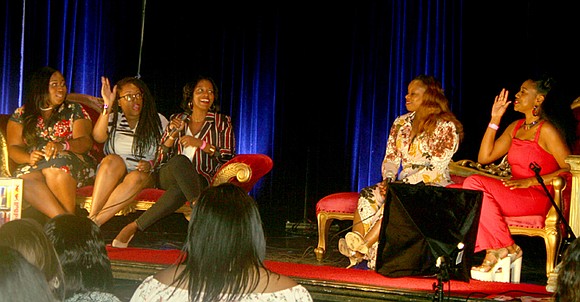 Branding and social media
Before starting a business, future businesspersons must clarify what is the best product or service they will be providing to their audience.
"One of the things I see in the forefront is that a lot of people don't take the time to really develop branding," said Leah Frazier, fashion editor and Dallas Entrepreneur Center brand ambassador. "You get so excited about your ideas, innovation and passion that you just throw up a website and get social media channels without saying 'What is that DNA [or gift] that God just gave to me.'"
Branding is the overall image, style and make up of the company business created and conveyed to potential customers.
"Your brand is your message. Your business is your services," said lifestyle blogger Xayli Barclay.
The branding experts insisted that aspiring entrepreneurs geared their brand and their business toward a particular passion that has come naturally to them, rather than a trade that accrues the most money.
"If you're not into it, your audience will read it," said blogger Jalisa Vaughn.
The next step is to execute and present that idea to your target market through networking and social media. Branding and digital marketing strategist Tangie Seals disclosed that most consumers buy based on their emotional connection to the seller. Social media accounts should display transparency and a businessperson's uniqueness to usher buyers into their lives as well as their company.

"Find a way to separate you from the rest of the brands, so that I am always receiving something from following you," Seals said.
The most common mistake among business owners is the lack of visibility due to fear. The speakers advised that fellow minority entrepreneurs must be willing to put themselves out there for the world to see.
"When you realize the only person holding you back is you … many people look out to friends and family and they are not your target customer most of the time," Frazier said. "Your target customer is someone who doesn't even know who you are and if you are too afraid to put it out there, you'll never connect with them."
Start your business
Once your blueprint is completed, it is time to execute and start up your dream business. Research plays an important role in helping entrepreneurs understand the exact paperwork and licenses needed to acquire and protect their companies.
"My biggest advice is before you start your business or whatever you're doing, chart all those things – LLC, DBA, Sole Proprietorship – out," said Sydney Chandler, founder of The Baddie Brunch Series, Inc.
A DBA, or "Doing Business As," registration is where businesswomen will need to file their trade name for their business and without it could lead to legal fines and lawsuits, according to LegalZoom. A LLC or "Limited Liability Company" is a separate and distinct legal entity that allows entrepreneurs to retrieve a tax identification number, a bank account and conduct business under one name. A business with no LLC can lead to lawsuits and, ultimately, losing your business to another entity.