Teen Talk on Safety & Sex
Health conference provides tough talks for teens
DENISHA McKNIGHT | 7/17/2018, 1:58 p.m.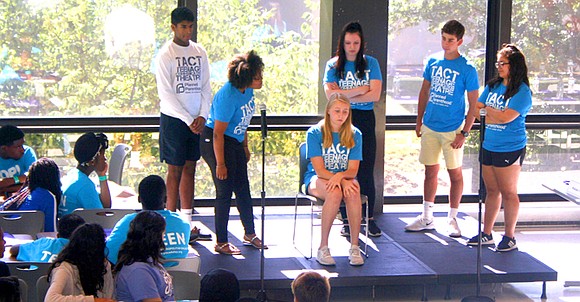 The Dallas Examiner
In U.S. high schools, 40 percent of students have had sexual intercourse – with 46 percent not using condoms within their last sexual encounter, according to a 2017 Centers for Disease Control and Prevention report.
These shocking numbers hit close to home as they translate in the Dallas/Fort Worth Metroplex. Dallas residents age 18-34 have the highest HIV infection rate in North Texas. Also, Dallas – along with San Antonio and El Paso – is rated among the top ten cities in the United States for teen pregnancy, and has one of the highest repeat teen pregnancy rates in the country.
Many factors contribute to these elevated rates, such as poverty, lack of education, peer pressure and other variables. In an effort to address all possibilities, the North Texas Alliance to Reduce Teen Pregnancy – known as Ntarupt – held a free teen health conference June 15 at Mountain View College for over 200 local youth, ages 12-18. The conference was geared toward evolving sexual and dating behaviors in the 21st century.
#HANDSOFF
One of the early sessions started with a domestic violence skit by the TeenAge Communication Theatre group.
Laughter filled a small corner of the classroom as students begin to settle into session. The laughing youth were focused on a 13-year-old male who stood up confidently as he mimiced the violence depicted in skit, before the breakout session began.
Planned Parenthood health educator Amanda Mendoza's face became flushed and she appeared to be shocked as she saw the seventh-grader impersonate the actor who portrayed the young teenage girl being slapped by her boyfriend – making it seem like a more animated cartoon scene.
During the session, the young teen learned the realities of intimate partner violence – beyond the skit and his joke. He and the other teens learned that this form of violence can occur in various forms of abuse; physical, emotional, sexual, financial and digital.
Domestic violence has greatly affected the teenager population. At least 1.5 million high school students experience physical abuse each year and 1 in 3 U.S. teens become victims of abuse from a dating partner, according to the Centers for Disease Control.
"That's off the charts," said the young man, as his initial jokes turned into questions. "It's too much. Why is it so common?"
Mendoza explained that the commonality of partner violence boils down to different things from mental health to lack of knowledge.
"People don't know what a healthy relationship is," she said.
The students differentiated the many parts that create a healthy and unhealthy relationship. Some children stated honesty, responsibility, morals, love and equality as traits for a healthy relationship, and in contrast, labeled hate, violence, lies and irresponsibility as components of an unhealthy relationship.
Mendoza expressed that it's imperative to clearly define a healthy partnership as well as understanding the signs of a violent union.
Intimate partner violence is present if the abuser uses intimidation through words, looks or weapons; isolation; minimizing, denying and blaming; using male privilege; using economic abuse; coercing and threatening; and pressuring into sex, drugs and alcohol, according to The National Domestic Violence Hotline.