Dems Build Momentum: Seven Texas Democrats in Congress just outraised Republican rivals
ABBY LIVINGSTON and PATRICK SVITEK | 7/25/2018, 10:45 a.m.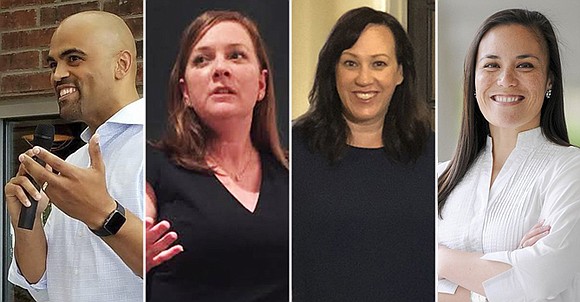 The Texas Tribune
WASHINGTON – There are few bigger warning signs for a member of Congress that their re-election may be in doubt than when a challenger outraises them. In Texas, it just happened to seven incumbents, all Republicans.
Since last week, when U.S. Rep. Beto O'Rourke, D-El Paso, revealed that he had raised a stunning $10.4 million between April and June in his bid to unseat Republican U.S. Sen. Ted Cruz, a wave of Texas Democrats running for U.S. House seats similarly blasted out their own unusually strong fundraising numbers.
The numbers only became more striking when compared to their rivals: Some Democratic challengers raised two, three or even four times what their Republican incumbent rivals posted. All congressional candidates were required to file their second-quarter fundraising reports with the Federal Election Commission by Sunday.
Along with Cruz, the six congressional incumbents who were outraised are delegation fixtures: U.S. Reps. John Carter of Round Rock, John Culberson of Houston, Will Hurd of Helotes, Pete Olson of Sugar Land, Pete Sessions of Dallas and Roger Williams of Austin.
In the 21st Congressional District, where Republican U.S. Rep. Lamar Smith is retiring, GOP nominee Chip Roy trailed his Democratic rival, Joseph Kopser. Several other Democratic candidates running in Republican strongholds across the state also posted abnormally large six-figure fundraising hauls.
Loading...
One of the biggest red flags for Republicans came from Carter's once-safe 31st District. Thanks to a successful viral video, veteran M.J. Hegar raised more than four times Carter's second-quarter sum – the biggest split among the races where Democrats outraised GOP incumbents.
Since last year, Democrats have been eyeing the seats held by Culberson, Hurd and Sessions. Despite each winning re-election in 2016, Hillary Clinton drew more votes than Donald Trump in their districts. The mood around Culberson and Sessions has markedly darkened in the past week, thanks in part to the fundraising of their rivals, attorneys Lizzie Pannill Fletcher of Houston and Colin Allred of Dallas, respectively. Even Hurd, who's built a reputation on his fundraising prowess, saw veteran Gina Ortiz Jones outpace him nearly two-to-one. But like Culberson and Sessions, Hurd has a distinct cash-on-hand advantage over his Democratic rival.
Hardly anyone in Texas will suggest that incumbents like Olson and Williams are in any significant electoral trouble because they were outraised. But the cumulative effect of so much strong Democratic fundraising is unnerving to many Texas Republican insiders.
One anxious Texas operative suggested these fundraising numbers are merely a first alarm bell. The second may come once incumbents go into the field en masse and poll. But two GOP sources say many incumbents have been reluctant to poll their districts amid what feels like a chaotic political environment and are waiting for a more stable period to get an accurate read of the electorate.
For most of the election cycle, Republican operatives have brushed off strong Democratic fundraising. Republican super PACs have been on a healthy fundraising streak. And in Texas specifically, Gov. Greg Abbott offers a massive financial and organizational umbrella to down-ballot candidates. He recently reported he had a $30 million war chest and had purchased $16 million in television advertising. Democratic nominee Lupe Valdez has yet to release her latest fundraising figures, but few Democrats are counting on her to provide strong coattails in the fall.