Dems Build Momentum: Seven Texas Democrats in Congress just outraised Republican rivals
ABBY LIVINGSTON and PATRICK SVITEK | 7/25/2018, 10:45 a.m.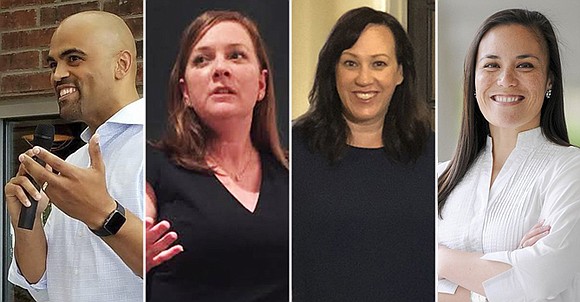 Yet, unsolicited, GOP insiders are beginning to chime in with the same refrain: As much as Abbott's money and organization will offer cover, there is a growing concern about the fact that O'Rourke has so frequently outraised Cruz.
Some Republicans remain confident the center will hold in Texas.
"The net effect is safe Republican members will have to spend more on their races as prophylactic measure," said Dan Conston, a national GOP strategist who works on U.S. House races. "But assuming they run serious campaigns and focus on turning out their voters, these safe Republican seats will remain so in November."
Yet those victories will come at a cost. In Texas, often viewed as a "donor state" in Republican politics, incumbents having to spend big to protect their own seats could wreak havoc with the money race in other parts of the country.
GOP members of Congress here are expected to raise millions of dollars for the House campaign arm and for vulnerable members elsewhere in the country. For this reason, the state expects and succeeds in holding positions of leadership within the party and chairmanships on Capitol Hill.
Now, many of these members with choice committee assignments and positions of influence in the party may end up spending more of their money protectively back home to reinforce their own seats. Collectively that could wind up to be a pile of money not being sent to hotly contested races in places like Tucson, Denver and southern California.
An even more dire situation for the GOP would be if national Republicans feel compelled to buy television ads for Texas members they've never had to worry about before, like Sessions, Culberson and Carter.
It may all be a fluke or misdirected Democratic enthusiasm, but longtime operatives are hopeful that Democrats can lasso anti-Trump enthusiasm to, at the very least, do what scores of national strategists have previously come to Texas and failed to do: build the party.
The logic goes, even if most of these congressional candidates come up short, the money and organization they bring to the table is a major opportunity for party building at the local level.
In Harris County, Culberson's 2016 Democratic rival had only raised a few thousand dollars at this point in the cycle. This time around, Fletcher more than doubled Culberson's quarterly haul.
In the nearby 2nd Congressional District, veteran Dan Crenshaw, who is running for an open seat currently held by U.S. Rep. Ted Poe, was one of the few bright spots of Republican fundraising. He doubled the fundraising of his own rival, Democrat Todd Litton. Yet that follows multiple quarters where Litton posted six-figure hauls, far exceeding past Democratic nominees' fundraising.
No matter how those races turn out, Harris County Democratic Chairwoman Lillie Schechter said these hauls help the larger Democratic goal of carrying the country in a midterm and winning more local races, including their goal of unseating state Rep. Sarah Davis, R-West University Place.
"Every bit of fundraising in Harris County, for every single Democratic committee, club, organization and candidate, helps us all with the fall," she said.
Disclosure: Joseph Kopser has been a financial supporter of The Texas Tribune, a nonprofit, nonpartisan news organization that is funded in part by donations from members, foundations and corporate sponsors. Financial supporters play no role in the Tribune's journalism. Find a complete list of them here.
This article was first published at https://www.texastribune.org/2018/07/16/7-texas-republicans-congress-were-outraised-their-democratic-rivals/ by The Texas Tribune, a nonprofit, nonpartisan media organization that informs Texans — and engages with them — about public policy, politics, government and statewide issues.