Maxine Waters speaks at Speaking Truth to Power conference
MIKE McGEE | 7/25/2018, 10:43 a.m.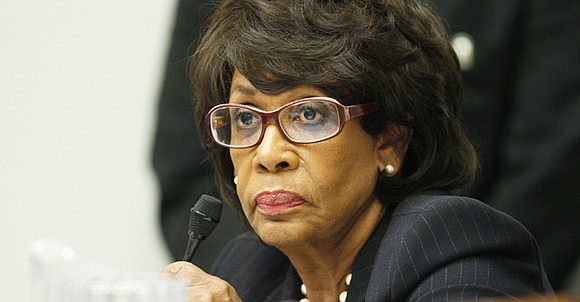 The Dallas Examiner
"Maxine Waters is considered by many to be one of the most powerful women in American politics today," read a statement about the congresswoman upon her anticipated June 29 visit to the yearly Speaking Truth To Power conference.
"She has gained a reputation as a fearless and outspoken advocate for women, children, people of color and the poor," it continued, yet the official from the 43rd Congressional District of California did not show.
To the disappointment – not to say surprise – to many Friendship-West Baptist Church attendees, Waters decided to stay away due to a legitimate threat upon her life.
She instead skipped scheduled trips to Texas and Alabama, and instead addressed the forum via a recorded message played in the church's sanctuary. The forum was intended to equip church leaders and community activists to fight for social justice.
"This is very good work," she remarked. "And but for the fact that I was threatened in a serious way, and did not have the kind of security that I think I needed, starting out of Los Angeles to Friendship West, it was decided that I should not come."
Dr. Michael Eric Dyson, an author, sociology professor and pastor, made an appearance in her stead while Dr. Frederick Haynes III, senior pastor at Friendship-West, reported on the cause of congresswoman's cancellation.
"The FBI said a foe down in Austin said he would lynch her if she came to Texas," he noted.
The Bureau had to act on the threat because its credibility was "elevated," Dyson later added.
The threat did not diminish Waters' passion for her role in government. Waters ticked off a litany of issues that she and other Democrat leaders have been hammering on; improved water quality in Flint, Michigan; family separations in the fight over illegal immigration; the purging of voter rolls; the disrespect shown to nations allied with America, homelessness and so on. She also spoke on problems that vex many people of color across the Dallas Fort Worth area.
"I have been working with Pastor Haynes. We're doing something about payday lending," the congresswoman specifically declared about the payday loan businesses that can be found in abundance in the Southern Sector and the trend of low-income residents using them to get by financially.
"It is awful. We have these companies that move into our communities, they target us for high interest loans," she noted.
To illustrate, The Dallas Examiner found one well-known lending business with a storefront on Camp Wisdom Road that provides an online chart depicting an example of a 669.69 percent APR charge for a 14-day term, which the business indicates will translate to a $50.76 finance fee on a $200 "payday single payment loan."
"They know that many people do not have enough earnings to last them until the next pay day and so they offer these loans to people in the hopes that, not only do they charge high interest rates, if you're unable to meet a payment, then they double up on you, and on and on and on," Waters exclaimed.