Texas schools that want to arm their employees have two choices
ALEX SAMUELS | 7/25/2018, 10:39 a.m.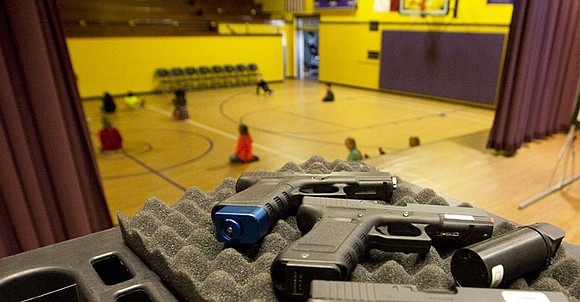 The Texas Tribune
Following a deadly mass shooting at Santa Fe High School, Gov. Greg Abbott rolled out a 40-page plan to keep schools safe. Proposals ranged from beefing up existing mental health screening programs to encouraging voluntary use of gun locks at home, but one component seemed to divide lawmakers, districts and Texas schools: arming school employees.
If Texas schools want to arm their staffs, they have two options. One is the marshal program, which Abbott proposed using state funds to help schools implement. It allows local school boards to authorize employees to carry a handgun on campus, but they must be specially trained and licensed by the Texas Commission on Law Enforcement. Under the program, armed school personnel can't carry firearms around students.
The other option was already around when then-Gov. Rick Perry signed the marshal program into law in 2012. Created by Harrold Independent School District Superintendent David Thweatt in 2007, the Guardian Plan allows local school boards to determine training standards and authorize specific employees to carry on campus at all times.
Here are four things to know about the two existing plans that allow school districts to arm their employees:
Marshal program creates a new kind of officer
For districts that choose to adopt the marshal program, teachers and other school staff members who undergo the required training are taught to act as armed security officers — or peace officers — in the absence of law enforcement.
"The marshal program is about creating an entirely new class of peace officers — certified and [Texas Commission on Law Enforcement] trained — who can act in a moment of crisis to disable and neutralize an active shooter," said state Rep. Jason Villalba, the Dallas Republican who authored the bill that created the Texas school marshal program Abbott wants to expand. "That's why the program is so starkly different than what Mr. Thweatt calls the guardian plan."
The Guardian Plan, on the other hand, lets school staff carry guns with or without marshal training. It doesn't train school personnel as peace officers but lets them carry their weapons as long as they undergo district-specific training and have a handgun license. And it doesn't have a maximum requirement for how many teachers can be armed, unlike the marshal program, which lets schools only designate one employee a marshal for every 400 students.
Despite the differences in approach for the two plans, they both aim to mitigate tragedies in the event an active shooter comes on campus grounds.
"That's the reason we're doing it, and I think we can do that because they're not going to know from where our particular defense is going to come," Thweatt said.
"When [an active shooter] comes to the school, they're going to get swarmed from multiple directions," he added. "Armed shooters go where they know there's going to be little resistance, but if they don't know where they're going to get resistance, they're not going to come to our schools."
Rural districts are more likely to adopt one of the plans