Texas schools that want to arm their employees have two choices
ALEX SAMUELS | 7/25/2018, 10:39 a.m.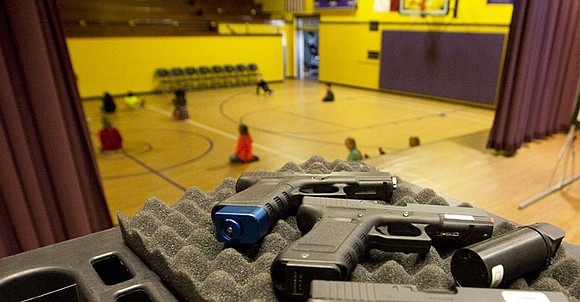 More than 200 of Texas' 1,000-plus school districts have adopted one of two programs. And a majority of those districts tend to be in rural communities, according to Dax Gonzalez, a spokesman for the Texas Association of School Boards.
"Generally speaking, districts with police departments ... do not tend to allow staff to carry firearms," Gonzalez said. "Those 217 are likely smaller, more rural districts that feel they cannot be serviced by local law enforcement quickly enough."
Villalba told Politico in February that he believes between 20 to 50 districts have adopted the marshal program. At least 172 Texas districts have adopted the Guardian Plan.
Training and gun storage requirements vary
Arguably one of the biggest differences between the two programs is the requirement for teachers or other employees who want to carry a gun.
Marshals have to receive 80 training hours and keep their firearms under lock and key. The Guardian Plan, on the other hand, lets teachers keep their firearm with them at all times — as long as they have a concealed handgun license and go through 15 to 20 hours of training.
It's worth noting that these requirements could change, however. Abbott previously proposed streamlining the training course under the marshal program — which he called "burdensome"— and eliminating the lockbox requirement.
Villalba was critical of Abbott's tweaks to the marshal program, saying that parents might be upset if teachers didn't have to lock up their weapons.
But several Texas Republicans, including Jerry Patterson, Texas' former land commissioner who helped get the state's concealed handgun law passed in 1995, say the lockbox requirement does more harm than good.
"The lockbox requirement is silly. The gun needs to be carried on the person and accessible immediately," Patterson said. "Not where you have to run to the office, go through a combination and then get the gun. If you carry it all the time, you won't lose the weapon."
Individual schools and districts that adopt the Guardian Plan are also allowed to choose their own training requirements. At Harrold ISD, for example, employees who choose to carry go through at least 15 hours of training that includes videos of hostage scenarios and shooting drills. Fayetteville ISD, which adopted the plan in February, doesn't require a specific amount of firearms training – though most staff do around 20 hours of training per year. And at Keene ISD, which adopted the Guardian Plan in 2016, Superintendent Ricky Stephens previously told The Texas Tribune he requires staff to undergo 80 hours of initial training and 40 hours annually after that.
Only one plan receives money from the state
To adopt either plan, districts have to find a way to pay for training, purchase firearms and ammunition and, in some cases, a lockbox.
But only the marshal program has received state funding to help pay for those expenses.
When the marshal program was first signed into law, the state had a grant program in place to help districts cover training costs. But that money ran out and funding has not been reauthorized. That's why Abbott proposed that the state pay for school marshal training this summer to ease the burden on individual districts.