Rotten meat… Chicken pox… Tearful separations… Migrants describe life in federal custody
EMMA PLATOFF | 7/30/2018, 4:36 p.m.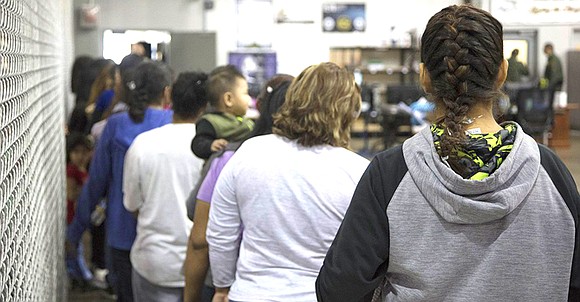 The Texas Tribune
Rotten sandwich meat that has turned green or black; noodle soup cooked so little that the noodles are still hard; drinking water that smells like chlorine, Clorox or "just bad;" cramped, cold conditions; tearful separations of children and mothers; guards who said Mexicans won't ever receive asylum in the United States …
In more than 1,000 pages of new court declarations from children and adults in federal custody, several hundred migrants who crossed the border seeking asylum described long waits for medical care, outbreaks of chicken pox and untreated diaper rashes. The documents detail minimal access to legal services, with obstacles like language barriers and migrants' confusion about their own rights. Some migrants say they were told they weren't welcome in the United States; others were told it doesn't matter what they try, they'll be deported in a matter of days.
Many of these families were separated under the Trump administration's "zero tolerance" policy, a now walked-back practice of sending parents into federal custody to be criminally charged for illegal border entry while their children were held in federally run shelters. Migrants gave these statements, which describe conditions in Customs and Border Patrol processing facilities as well as Immigrations and Customs Enforcement detention centers, to lawyers from various advocacy organizations in June and July 2018. Lawyers advocating for the migrants submitted the documents to a federal judge, alleging that the legal requirements for children's care are being violated and asking that a special monitor be appointed to oversee the facilities.
Federal officials declined to comment on the pending litigation, but cited a June 2018 court document from the government in which Henry Moak, chief accountability officer for Customs and Border Patrol, said that based on his own interviews with children in federal custody, CBP continues to comply with legal requirements for children' treatment in those centers. Those facilities are required to provide age-appropriate food and keep rooms at a certain temperature.
Migrant families passing through detention facilities have long complained of such conditions, but new attention – and new duress – have been placed on these families under the administration's new practice of separating families.
Complaints of cold facilities, inedible food and long wait times were ubiquitous throughout the accounts. Here are some of the most striking stories:
Denia M., a 20-year-old mother from Honduras, crossed the border with her 1-year-old daughter, Zoe. She said she fled after gangs killed her husband and burned down their store in Atlantida; they fled so quickly she said she would miss her husband's funeral. In detention, her infant daughter got sick and began having diarrhea, but Denia said "I don't want to ask for a doctor because I am afraid the officials will retaliate and hurt my case if I do."
Manuel A., a 17-year-old from Roatan, Honduras, said he left because of threats from drug dealers. It took him six months to reach the border, he said. Now, he feels "very lonely" and said agents told him his asylum case would not be accepted because "they don't want stupid people like me here bothering their country."