Rotten meat… Chicken pox… Tearful separations… Migrants describe life in federal custody
EMMA PLATOFF | 7/30/2018, 4:36 p.m.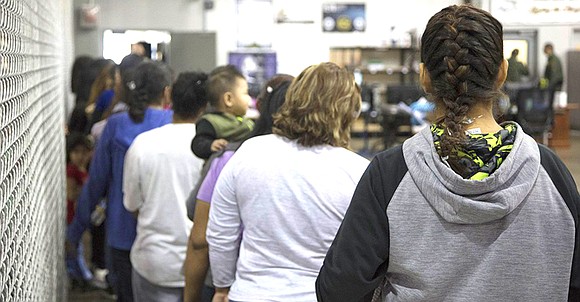 Katharine B., a 17-year-old from El Salvador, describes saying goodbye to her mother after they crossed the Rio Grande in a raft. Before separating them, an officer asked, "Did you get a chance to say goodbye to your mom?"
Later, Katharine says there is an unattended 2-year-old baby named Bethany in her "cage."
Rebecca Y., a 21-year-old from Comayagua, Honduras, describes being separated from her 4-year-old niece, Brittany.
"They left my niece sleeping in the cell. They didn't tell me why they had pulled me out or whether I would go back to the cell," she said.
10-year-old Dixiana S., of Honduras, says she was separated from her mother at a processing facility and put in a cell with other girls. There, "a male officer kicked me to wake me up. … The kick scared me and hurt." She said all the girls in her cell were crying, and the lights were always on.
A 29-year-old Honduran mother, Dixia S., said she was separated from her 10-year-old daughter despite concerns about her daughter's asthma. They were placed in different parts of the same facility.
"I missed my daughter desperately," she said.
A Mexican mother and son – Patricia H., 43, and Angel A., 13 – each described to a lawyer their journey into the United States, during which they were separated twice.
During their first separation, in Brownsville, Patricia "asked why they had put me in one cell and him in another. They told me that the zero tolerance policy had started, and that they were going to separate mothers from their children. They told me I was going to court."
Patricia said she told an official that they were seeking asylum. But "he told me that he would put it down in his file but that Mexicans can't get asylum."
While Patricia was in court, Angel said he was taken back across the border, handed over to Mexican authorities, and brought to a juvenile detention facility in Matamoros, Mexico. Patricia was told her son had been deported, and that she had the option of staying in the United States or finding him in Mexico.
"They told me that it was their error that he was deported but they couldn't bring him back," Patricia said.
Rosa P., a 34-year-old Guatemalan woman, said she was separated from her 16-year-old daughter and could not understand what happened to her during immigration or legal proceedings because there was no one who could translate into her native language of Q'eqchi', a Mayan language.
Anet M., a 15-year-old from Chiapas, Mexico, says she was told she could not seek asylum "because I am a minor." Anet is two months pregnant.
This article was first published at https://www.texastribune.org/2018/07/23/detention-hundreds-immigrants-describe-experience-federal-custody/ by The Texas Tribune, a nonprofit, nonpartisan media organization that informs Texans – and engages with them – about public policy, politics, government and statewide issues.