Black women changing tide of American politics
JEFFREY L. BONEY | 6/11/2018, 4:43 p.m.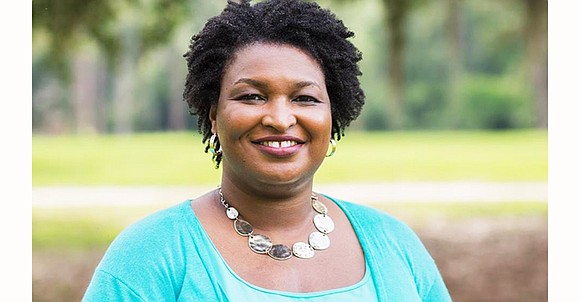 Abrams has a chance to change the overall landscape of politics as we know it, but it will take more than having her name on the ballot as the Democratic nominee in Georgia to make that a reality – it will require engaging existing Black voters and focusing on getting newly registered Black voters to the polls in November.
Abrams has adopted a strategy focused on registering new Black voters and engaging more Blacks to come out to the polls and vote in November 2018 than came out in 2014, when only 40 percent of African Americans went to the polls in Georgia, compared to roughly 48 percent of Whites.
If recent history is any indication, the only way the tides will turn in the favorable direction Democrats hope for relative to the key gubernatorial seats that are up for grabs in battleground states this November, is if there is a heavy Black voter turnout – something the National Newspaper Publishers Association has been focused on in 2018.
The NNPA, a trade group that represents over 200 Black-owned media companies across the U.S., recently launched an initiative to encourage 5 million new Black voters to register to vote before the midterm elections, with the hopes of ensuring candidates like Abrams cross the finish line victoriously.
"The NNPA views the electoral victory of Stacey Abrams as the Democratic candidate for Governor of Georgia as one of the most important political advances for the interests of Black America, since President Barack H. Obama was elected," said Dr. Benjamin Chavis Jr., president and CEO of the NNPA. "In particular, Black women are now the effective vanguard in statewide and local elections across the U.S. The win by Abrams in Georgia is also timely as the NNPA has called upon 5 million more Black Americans to register to vote before the November 2018 midterm elections."
Abrams will need that increase in Black voter turnout to add her name to the list of Black women, who are changing the landscape of politics across the country.
According to a recent report by the Higher Heights Leadership Fund and the Center for American Women and Politics titled, The Chisholm Effect: Black Women in American Politics 2018, Black women only make up 3.6 percent of the U.S. Congress and less than 1 percent of statewide elected executive officials. Only 38 other Black women have served in Congress since Shirley Chisholm's groundbreaking victory in 1968, when she became the first Black woman elected to the U.S. Congress.
Relative to statewide elected executive offices, only three Black women currently serve in a statewide office – Jenean Hampton, R-Ky., the Lieutenant Governor of Kentucky; Sheila Oliver, D-N.J., the Lieutenant Governor of New Jersey; and Denise Nappier, D-Conn., the State Treasurer of Connecticut. Together, these women represent 4.2 percent – 3 of 71 – of all women statewide elected executive officials and 0.96 percent – 3 of 312 – of all statewide elected executive officials in the entire country.
Going even further, only 12 Black women have ever held statewide elected executive office in just 11 out of the 50 states, and prior to Abrams' historic quest to become the next governor of Georgia, no Black woman has ever been elected governor, let alone become the gubernatorial nominee of a major political party. Abrams may be just the person to change things.
Abrams has become a major catalyst behind this exciting new trend of Black women running for office nationally, and a lot of her momentum should trickle down to other seats on a local level.
The nation will see how powerful this momentum has become since Abrams' historic victory June 5, when London Breed, the current president of San Francisco's board of supervisors, will face off against seven other challengers in her quest to become the city's first Black female mayor.
Still, many of these Black women who decide to run for office need the support of the Democratic Party, who historically have a pretty dismal track record of providing support for African American candidates nationwide and at the local level.
Time will tell if this November will be different.