Joppa calls for environmental justice
Former freedmen's community loses concrete plants, fights for pollution controls
MIKE McGEE | 6/11/2018, 8:21 p.m.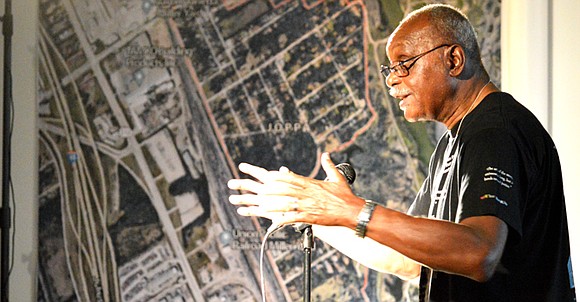 Fowler begged to make the approval a "people issue" that would economically assist and provide amenities to the citizens of the neighborhood.
"Today you heard from a lot of people standing at this very podium from people that do not live in our community," she voiced and wondered aloud where they were during community cleanups or neighborhood home repair endeavors.
Eventually the permit was denied, after the council encountered enough public resistance that ran the gamut from environmental science evidence to a reminder of the regional history of redlining.
Despite the dooming of the concrete plants, a wider conversation about the area continues. A May 22 event entitled Let Joppa Breathe was held to "begin permanent air quality monitoring in Joppa as part of a long-term effort to redress decades of environmental racism," according to a promotional statement. The program at 1808 S. Good-Latimer Expressway included dinner, music, a spoken word performance and vignettes from The Freedmens by The Soul Rep Theatre Company.
However, the core of the event was the drive to improve the collective health of a long established yet neglected section of the city.
Natasha Dunn, vice president of the Joppa Freedman's Town Association, discussed the former slaves that built the community and their spiritual link to the modern world, lamenting, "Although our minds are free, our bodies are still in bondage from environmental injustices that are still taking place."
Data released by the association, as well as by the group Downwinders at Risk, reported that a week before the council vote portable air monitors revealed air pollution levels in Joppa were 30 to 50 percent higher than the closest EPA monitor nine miles away. It is this pushback against environmental racism – dirtier industries traditionally ending up near minority communities – that impassion Dunn and her compatriots.
"What would environmental justice in Joppa look like?" she pondered. "It would mean permanent air monitors spread through the Joppa neighborhood giving us real-time information about the air that we're breathing."
It would also include a baseline health service and follow-ups to track community health issues. Dunn recommended neighborhood medical treatment for respiratory diseases as well as routine mobile clinic visits. With every suggestion the speaker listed, applause rose from the audience.
"We didn't know that we was going to get so much support from the Downwinders and from the Sierra Club, and when we walked into city hall for that last battle, you guys just don't know how good it felt," she called out, overcome with emotion.
"We have been alone for so many years. We're behind a concrete plant. Behind a railroad track. Behind dumpsters of trash and debris that's next to a freeway with fuel emissions blowing over there, too," her voice rising.
"Nobody cares about us but it's made us feel so good to know that somebody finally cared about us, and our health and our elderly, and people who are struggling to breathe and make it through the day…" as she recalled the council meeting and the diverse allies who may have taken a first step in an environmental revolution for Joppa.