As teen suicides on the rise, doctors bring help to schools
University of Texas | 6/11/2018, 4:41 p.m.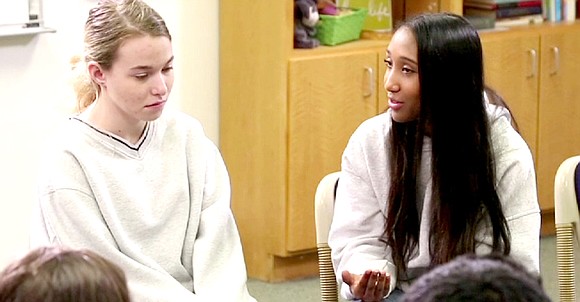 University of Texas
Her eyes were downcast and distant. A deep hopelessness imbued her quavering voice.
"I'm ready to go," she said softly.
Her friend touched her arm reassuringly, offering a string of advice often given to depressed people, "Suicide isn't the answer, get professional help, everything will be fine."
"I'm tired of everyone telling me it'll be OK, because I just don't feel that way," the girl retorted bitterly.
The friend hesitated, then looked helplessly at her classmates watching the role-play session unfold at the front of the classroom.
"I don't really know where to go from there," the friend acknowledged, as the instructor walked toward the two teenagers to discuss the mock scenario.
The role-playing session is part of a network of education and research programs UT Southwestern Medical Center is implementing in Texas schools to address a startling rise in teen depression and suicide across state and the country. By accessing classrooms to identify, study and treat at-risk youth, experts are raising awareness in a vulnerable age group while obtaining critical data that could change the paradigm of combating mental illness.
Besides helping students cope, the Risk and Resilience Network will assist scientists in a range of clinical endeavors, from developing blood and brain tests for diagnosis to identifying effective treatments and interventions.
"There is an unfortunate misperception that if you talk to teenagers about depression, they'll get depressed. We have to help people understand: A don't-ask-don't-tell policy for depression and bipolar disorder is not effective," said Dr. Madhukar Trivedi, founding director of UT Southwestern's Center for Depression Research and Clinical Care, a cornerstone of the Peter O'Donnell Jr. Brain Institute.
'Cutting-edge research'
The network has been implemented across North Texas, from sprawling public school districts to smaller private institutions and youth organizations. These schools have access to several education and research programs in and outside the classroom, including a 10-year study of 1,500 participants [ages 10 through 24] that will uncover factors that reduce the risk of developing mood or anxiety disorders.
Trivedi said the research will expand the limited understanding scientists have about how to build resilience to these disorders by analyzing socio-demographic, lifestyle, clinical, psychological and neurobiological factors. Eventually, these data will help with early intervention and reduce the risk of serious mental illness.
The network also seeks to help pediatricians follow new national guidelines that call for all teenagers to be screened for depression. The VitalSign6 initiative equips these doctors and family practitioners with mental health-screening tools and educates them on best practices.
"Early detection, rapid intervention, cutting-edge research and prevention are key," said Trivedi, who led the STAR*D studies that established widely accepted treatment guidelines for depressed patients. "Unlike a lot of other major chronic diseases, these illnesses start early – in middle school and early high school. If we can intervene at that point, then we can have better outcomes."
In the classroom
The education arm of the network includes a mental health program widely used in Europe to help adolescents cope with mood and anxiety issues. The Youth Aware of Mental Health program has already drawn interest from some of Texas' largest school districts and continues to expand.