As teen suicides on the rise, doctors bring help to schools
University of Texas | 6/11/2018, 4:41 p.m.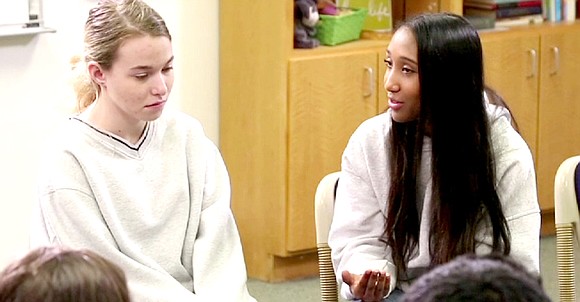 A team of trained UT Southwestern facilitators, under the supervision of a psychologist, is deployed to classrooms for five one-hour sessions, providing knowledge on mental health and suicide prevention to all students. YAM includes a research component in which depression-screening questionnaires are given to students before and after the program and anonymously entered into a database for analysis.
A startling trend
The Risk and Resilience Network comes at a critical time for the field of mental health, which has seen a sharp rise in cases of depression and suicide among adolescents.
Last week, a McKinney teen took his life at school on the last day of class.
Last year, families endured 3,403 teen suicides in Texas, making suicide the second leading cause of death for the state's teens and young adults, according to the American Foundation for Suicide Prevention.
A 2016 study found that the rate of adolescents in the U.S. who reported a major depressive episode within the previous year rose to 11.3 percent in 2014, a 37 percent increase from 2005. A separate study published in 2016 found that suicide rates among girls ages 10 through 14 tripled from 1999 to 2014.
The issue resonates strongly in the small suburban Dallas school district of Lovejoy, where high school senior Bradley Davis has organized charity runs for suicide prevention after two friends committed suicide in consecutive years.
The losses struck him hard, in part because he didn't notice signs of distress in either person.
"There's definitely a stigma," Bradley said. "People don't like to acknowledge it, especially the people who are depressed. They feel embarrassed and don't want to talk."
Lovejoy is striving to change that mindset by enrolling its ninth-grade classes in the network. And based on parent feedback and the personal stories shared with school counselors, the district is hoping to soon expand its participation into middle school classes, said Sancy Fuller, executive director of Special Education and Academic Support at Lovejoy Independent School District.
"There is a need," Fuller said, adding that students have gravitated mostly toward the network's interactive and role-playing sessions. "We're trying to be proactive, as opposed to waiting and having someone end up in a crisis that we potentially could have avoided."
Plano Independent School District, one of Texas' larger districts with nearly 55,000 students, also enrolled in the network this school year after enduring multiple student suicides. But unlike most districts, Plano high schools are offering the program to all grade levels, from freshmen to seniors.
"I would love to see everyone exposed to this kind of learning because tragedy impacts us in powerful ways," said Jana Hancock, Plano ISD's Director of Guidance and Education Services.
She mentioned that her counselors have seen a dramatic increase in students either self-reporting their depression or sharing concerns about friends.
"And that's what we want from our students," she said. "Students will usually talk to each other first, so it's up to them to let us know when there's a problem."
Frontline efforts
UT Southwestern's experts are on the frontline of this effort, giving lectures about mental health and meeting with students in classrooms. They also hold outreach events for parents to learn about other network programs available to their children.