Family demands justice for Black teen killed by California police
(BlackNews.com) | 6/22/2018, 11:37 a.m.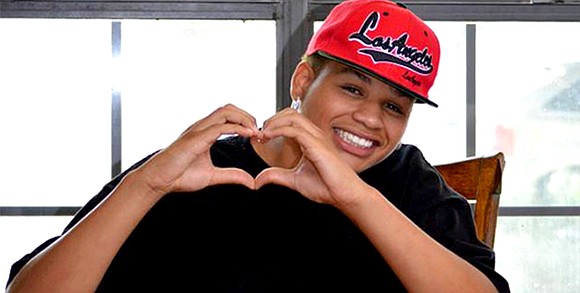 Riverside County, Calif. (BlackNews.com) – Temecula, California, is a location that families relocate to, attracted by a better school district in a 'safer' neighborhood. The city earned a reputation for being the "second safest city in America." Yet, Temecula is the location where police fatally shot 18-year-old resident Matthew Tucker, adding his name to the tally that includes Freddie Gray, Sandra Bland, Tamir Rice, Philando Castile and others.
Tucker was slain by officers from the Riverside County Sheriff's office, who were called in for a suicide crisis intervention. The Tucker family is outraged and now seeking justice through the court system on behalf of their beloved.
On May 4, 2016, 18-year-old Tucker, emotionally distraught over a failed romantic relationship, was contemplating suicide. He dialed 9-1-1 at approximately 5:21 p.m. Responding officers, Investigator Michael Hamilton and Deputy Rosa Calderon, arrived at the Tucker family home 20 minutes later, at approximately 5:41 p.m.
Before police entered the home they were immediately cautioned by Tucker's mom that he was suicidal and saying he 'wants to die.' Having already been informed that Tucker was emotionally distraught and despite the admonition, seeing the teen holding a knife, in a two-step process, county officers ordered the emotionally distraught teenager to "drop the weapon," drew their guns, and then shot to kill. According to both officers' testimony, they quit shooting when Tucker dropped the knife.
Tucker and his family were residents of Temecula, a suburban town in Riverside County, located in Southern California.
On the day Tucker was shot by police, he was in his home in the presence of his mother, sixteen-year-old sister and niece, an eighteen-month-old toddler. His family said they trusted officials from the local sheriff's office to de-escalate the situation. They said, instead, the police entered and shot him in his home, in the presence of his family, in less than a minute. All surviving family members remain irreparably traumatized without so much as an offer of counseling or condolences from Riverside County.
To add further insult, press statements were issued by the Riverside County police department immediately following the shooting, criminalizing young Tucker and citing inaccurate, incomplete, and/or false information. Tucker was an African American male of mixed-race heritage. Published reports omit Tucker's ethnicity. These statements offered no promise of a full investigation into police misconduct, nor did they cite findings from Riverside County's medical examiner. Press statements were released before any official medical examination of the deceased Tucker's body had taken place.
Chief coroner Dr. Mark Fajardo indicated in his findings that the final, fatal shot resulted from an entry wound found in Tucker's back with a bullet lodged in his abdomen. Fajardo further clarified during his June 7, 2017 deposition, the fatal "gunshot entered from the top [of Tucker's back] going downward entering at his back right shoulder blade and proceeding on a trajectory toward the lower right front of his abdomen but not actually exiting the abdomen."
He also specifies the angle of the wound further suggests the shot was fired into Tucker's back while the teen was on the ground, a clear indication of an unnecessary and unjustified use of deadly force. The family's attorney, Darryl Exum, confirmed, "Neither officer testified they shot him [Tucker] while he was bent over," and yet he was shot in the back. "Their expert, [Fajardo] said, Matthew may have bent over at a 45- degree angle when this bullet entered his body or he was seated on the ground or close to the ground or on the ground prone (laying flat on his stomach)" when he was shot in the back. Apparently, the fatal shot in Tucker's back, occurred while he was down, disarmed and on the ground.