Four things to watch at Texas Democratic, Republican conventions
ALEX SAMUELS and CASSANDRA POLLOCK | 6/22/2018, 11:43 a.m.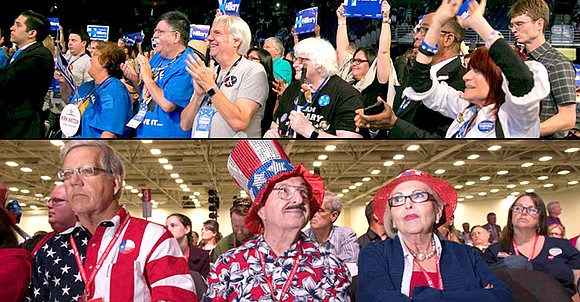 The Texas Tribune
Several thousand Texans will descend on San Antonio and Fort Worth for the biennial Republican and Democratic conventions to hear from the state's most prominent politicians, adopt new platforms and elect party leaders.
Republicans, who are meeting in San Antonio this week, will participate in the "most bottom-up, grassroots-driven political party organization in the country – bar none," said Texas GOP Chairman James Dickey.
Democrats will meet in Fort Worth the following week, and party leaders have said they hope to showcase a united front ahead of what's expected to be a tumultuous general election in which many are predicting Democrats will make gains nationwide. Texas hasn't elected a Democrat to statewide office since 1994.
"The party is going to be extremely unified in supporting all of its candidates," said Texas Democratic Party Chairman Gilberto Hinojosa. "I think you'll see the convention spending a lot of time showcasing these candidates ... that we believe have a fighting chance of breaking that ceiling we've been up against for the last 25 years."
The conventions this summer are almost certain to highlight rubs between the two parties. Here are four things to keep an eye on as both affairs play out this month.
School shootings and #MeToo
Delegates at both party conventions will debate, assemble and approve their 2018 platforms – a list that reflects the ideas leaders and members support ahead of the November election and 2019 legislative session.
For the past few conventions, Democrats have adopted a platform with few changes. But national conversations surrounding issues such as the #MeToo movement and gun control are shaping how party leaders approach this year's meeting in Fort Worth.
"The status quo isn't going to cut it anymore. We've had a national debate around the #MeToo movement and gun control, and Texas is not immune to that," said state Rep. Celia Israel, D-Austin, who chairs the Texas Democratic Party's platform committee. "We feel as though the platform is a good place to reflect these high profile issues."
And in the wake of several mass shootings – including one at Santa Fe High School last month that left 10 dead and another 13 injured – conversations on school safety will also make an appearance at the Texas GOP convention.
Along with sparking potential platform debates, prominent Texas Republicans, including U.S. Sen. Ted Cruz and Attorney General Ken Paxton, are expected to take part in a panel titled "The constitutional response to mass shootings" Friday. An advertisement for the event describes the planned discussion as focusing on how to "enhance public and personal safety" and adds in parentheses that "gun control is not the answer."
Dueling factions
Both of the parties' last conventions unfolded in 2016 amid heated moments in the presidential race. Texas Republicans met soon after Cruz ended his bid for president, ceding his party's nomination to Donald Trump. Party activists remained split between those backing Trump and those who were not sure if they could ever support him.
A few weeks later, Texas Democrats held their convention while the presidential nomination fight between former U.S. Secretary of State Hillary Clinton and U.S. Sen. Bernie Sanders of Vermont was still playing out.