Sankofa Garden Homes: Juneteenth Freedom Gardens
CLARENCE GLOVER | 6/22/2018, 11:48 a.m.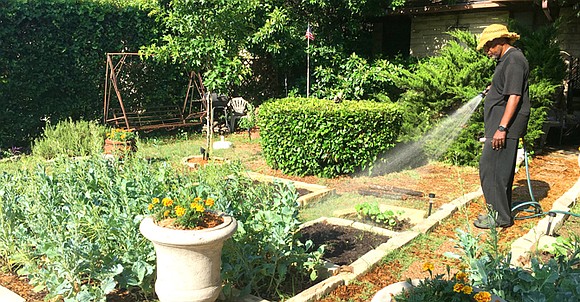 Sankofa Gardening Homes
As we approach the 153rd celebration of African freedom in Texas, known as Juneteenth – June 19, 1865 – many will ponder the meaning of the day when enslaved Africans in Texas received the news of the Emancipation Proclamation, two years after it had been declared by President Abraham Lincoln, Jan. 1, 1862. The Emancipation Proclamation was the result of a complex series of conversations between Lincoln and Frederick Douglas, who had been formally enslaved and became a leading Abolitionist against slavery.
To understand the reason for the two-year delay, one must understand the relationship between the United States, the Confederate States and the Civil War at the time, particularly in Texas.
While many Southern states had instituted slavery and plantation life for many years, Texas [formerly Mexico] was fairly new and provided new territory for the production of cotton – the economic crop of the South. As Andrew J. Torget in his well-researched book, Seeds of Empire cited, the founding of Texas was a "continuation of the endless search by Americans … for the best cotton land along North America's rich Gulf Coast."
It would be Stephen F. Austin, one of the founders of Texas Torget reminds us, who said, "The primary product that will elevate us from poverty is cotton and we cannot do this without the help of slaves." Thus, Texas became a haven for many Southerners escaping a defeated South to re-establish the cotton plantation system using free African labor, thereby preserving it longer than other Southern States.
It would be the free African laborers, Africans who Built America, who planted the seeds, not only of cotton, but also peas, yams, watermelon, okra, squash, corn and fruit trees that would build "The Texas Empire."
While many of us Descendants of Africans who Built America do not engage in the cotton industry – although we should explore the opportunity, in that Texas is the No. 1 grower of cotton in the nation – we can explore growing vegetables and fruit in our Sankofa Gardens around our homes.
One of the greatest expressions of freedom we can make honoring Juneteenth, is to plant seeds to grow our own gardens. Gardens that can change our communities from "food deserts" to "food oasis" and help our children realize what our ancestors and elders knew; that food does not grow in grocery stores, but rather in gardens.
To know when and what to plant, refer to the Farmer's Almanac at http://www.alamanac.com/content/gardening-moon-region-1.
The concept of our communities being "food deserts" is not only related to the scarcity of grocery markets, but also the scarcity of our own home gardens as our ancestors and elders once grew. To build an above ground garden, read The Dallas Examiner Sankofa Garden Homes article at http://dallasexaminer.com/news/2017/sep/18/sankofa-garden-homes-starting-above-ground-garden.
One of the first things our ancestors had to do after emancipation was to grow food to survive. Some worked on sharecropping farms while others worked their own farms. Either way, growing food was essential to survival and ultimately what it meant to be free people.