Sankofa Garden Homes: Juneteenth Freedom Gardens
CLARENCE GLOVER | 6/22/2018, 11:48 a.m.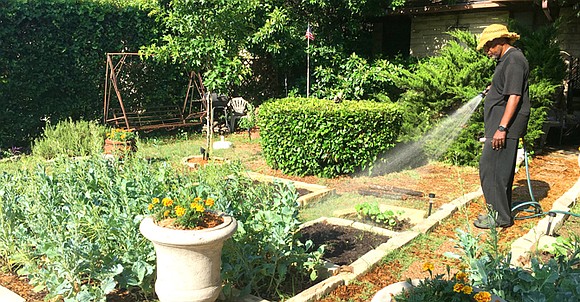 As we pause to remember and celebrate Juneteenth and contemplate the meaning of freedom today, growing our own food should be primary on our list of things to do. All cultural groups have foods that are associated with them. These are not stereotypes, but rather what I call "association-types." They are foods that many people of a cultural group prepare and eat more than other cultural groups. Because Africans were the primary cooks in the South, many have viewed these foods as "Southern Food." Later they would be called "Soul Food."
As African Americans an example of some of our cultural foods are collard greens, turnip greens, mustard greens, black-eyed peas, okra – African word gumbo, squash, beans, rice, watermelon and yams [sweet potatoes].
From these various foods we have created unique dishes that satisfy our cultural palate, hoppin' john – a black-eyed peas and rice dish, greens, candied yams, gumbo, beans and rice, hot water cornbread, fried chicken, smoked meats, fried fish, hoe cakes, pound cakes, cobblers, etc. Like all foods, they are shared by other cultures just as other cultures share their foods.
Just as the seeds of freedoms we now enjoy were planted long before the Emancipation Proclamation was declared, we must continue to harvest freedom's seeds and replant them in the soil of justice so that generations unborn can one day harvest the fruits of freedom. Freedom is never won once and forever, the price of freedom is eternal vigilance.
Like our Sankofa Home Gardens, no crop last forever. Each plant has in it the seeds of its future. We must do the work to harvest these seeds for the future if there is to be food for the future.
We have been bequeathed a legacy of being great farmers and gardeners. Let us during this time of "green living" reclaim our history and heritage of being good stewards and stewardesses of the Earth.
The greatest expression of freedom of any people is the freedom to grow their own food. This Juneteenth the question is: how free are we?
Until next month, Good Sankofa Home Gardening.
Sankofa Education Services is provided by Clarence Glover, known as Professor Freedom, for the purpose of: "Taking the chains off our brains, so our minds can work." He can be reached at clarencegloverjr@aol.com.