O'Rourke, Escobar lead march on tent city and separating immigrant children
JULIÁN AGUILAR and JUAN LUIS GARCÍA HERNÁNDEZ | 6/25/2018, 10:37 p.m.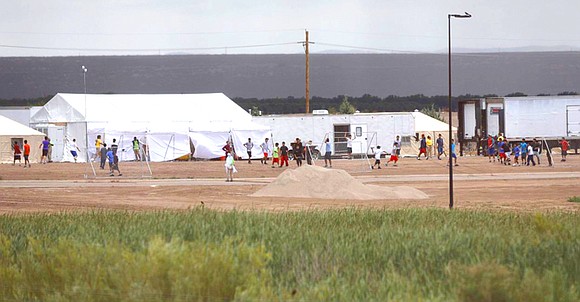 The Texas Tribune
TORNILLO – World Cup soccer and backyard barbecues were set aside Father's Day morning for hundreds of people who chose instead to descend on this small West Texas outpost that's become famous the last 72 hours for being home to an immigration detention center for children.
Lawmakers, political candidates and members of the faith-based community joined people from across the country here to express their outrage toward the Trump administration's practice of separating immigrant children from parents who are seeking asylum.
"We decided there wouldn't be a more powerful way to spend Father's Day than with children who have just been taken from their fathers, children who have been taken from their mothers, children who won't be able to be with their family," said U.S. Rep. Beto O'Rourke, D-El Paso, who spearheaded Sunday's protest with former El Paso County Judge Veronica Escobar, the Democratic nominee to succeed O'Rourke in Congress.
Others attending the demonstration included Lupe Valdez, the Democratic nominee for governor; Democratic state Reps. Mary González of Clint and César Blanco and Lina Ortega of El Paso; Gina Ortiz Jones, the Democrat challenging U.S. Rep. Will Hurd, R-Helotes; and Julie Oliver, the Democrat running to unseat Republican U.S. Rep. Roger Williams of Austin.
On Thursday, the Trump administration confirmed that Tornillo would house a detention center for immigrant children separated from their parents under the administration's "zero tolerance" policy. On Friday that facility was up and running. O'Rourke said he was told Sunday morning that there are 200 minors in the center, 20 percent of whom were separated from their parents. He said the remainder of the children arrived at the border unaccompanied. But O'Rourke said that once the children are separated, they are labeled "unaccompanied" and processed that way, so it's unclear how many of them actually arrived alone.
The lawmakers and protesters gathered along the small road that leads to the facility and led a short march to the port entrance.
Critics have repeatedly mentioned the West Texas heat and questioned why the administration would house children in an area where triple-digit temperatures are common throughout the summer. González said she toured the facility and said the conditions inside are humane.
"First and foremost, no kid should be in a tent or in any facility, but I think when we think of the tent city we think of Arizona, Joe Arpaio style," she said, referring to the former Maricopa County sheriff who used an outdoor facility for years. "That's not the situation here. There is air conditioning, there are doctors, there are caseworkers."
But she said the administration is barring news outlets and even lawmakers from viewing the facilities to keep attention on the facilities and away from a legislative solution to the country's immigration problem.
"We're not being told about what the situation is like inside, so we get caught up in tents and not on policy," she said.
While most Texas Republicans were not going out of their way to wade into the situation, one exception was Hurd, who represents a sprawling district that covers most of the Mexican border in Texas – including Tornillo. Hurd, regularly ranked as the most vulnerable Republican in the Texas delegation, visited the tent city Saturday and came back decrying it as an unacceptable way to combat illegal immigration.