'Red flag' law could remove guns from people who are deemed dangerous
JOLIE MCCULLOUGH | 6/25/2018, 10:35 p.m.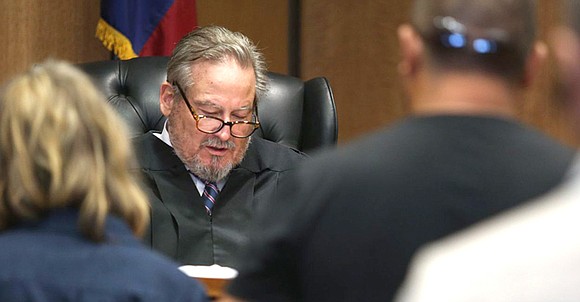 The Texas Tribune
As part of his school and gun safety plan, Gov. Greg Abbott wants to explore a law that would allow local officials to take guns away from people if a judge declares them a danger – while also protecting Second Amendment rights. It's an issue that has previously gone nowhere in the Texas Legislature.
Similar bills have died quickly and quietly in the Legislature before, but this time the idea is coming straight from the governor's office. In his 43-page school safety plan, Abbott, a Republican supported by the National Rifle Association, asked the Texas House and Senate to look into whether Texas might benefit from a red flag law.
Abbott appeared to give a nod of approval, at least in theory, to implementing special protective orders that would allow for temporary gun confiscation and provide mental health treatment when necessary.
"Properly designed, emergency risk protective orders could identify those intent on violence from firearms, but in a way that preserves fundamental rights under the Second Amendment," he wrote, adding that such orders could have been used to prevent the shootings in Sutherland Springs and Parkland.
But the idea that someone could have their firearms taken away by the government simply because of a threat – rather than an overt act of violence – has some Texans clutching their guns tighter. Some conservative groups have already denounced the idea, saying earlier bills would have violated the Constitution's due process protections and warning that Abbott's proposal could place too much power with "a vengeful relative" and give judges wide latitude in deciding who is considered an "imminent threat." In the party's official platform issued in San Antonio, June 16, Texas Republicans said they opposed the red flag proposal.
Last year, Alice Tripp, legislative director of the Texas State Rifle Association, testified against an unsuccessful bill that would have created a lethal violence protection order, calling it a "pick up your firearms bill." She declined to comment about the current debate sparked by Abbott's plan.
A spokesman for Lt. Gov. Dan Patrick, the leader of the state Senate who leans far to the right, did not respond to questions about whether he would support a red flag law.
Even with a push from the governor, there's a long, bumpy road that lawmakers will have to navigate before Texas adopts a red flag law. That process will begin June 25, when the House Criminal Jurisprudence Committee is scheduled to hold its first hearing to explore whether the state needs such a law – and, if so, how it should be written.
Last year, state Sen. José Rodríguez and state Rep. Joe Moody, both Democrats from El Paso, filed identical bills that would have created a lethal violence protective order. The legislation resembled other red flag laws across the country, giving a court authority to order the surrender of someone's guns for a year if a judge rules the person is an immediate danger to themselves or others. Under the proposal, family and household members, prosecuting attorneys and police all could request the order from the judge.