'Red flag' law could remove guns from people who are deemed dangerous
JOLIE MCCULLOUGH | 6/25/2018, 10:35 p.m.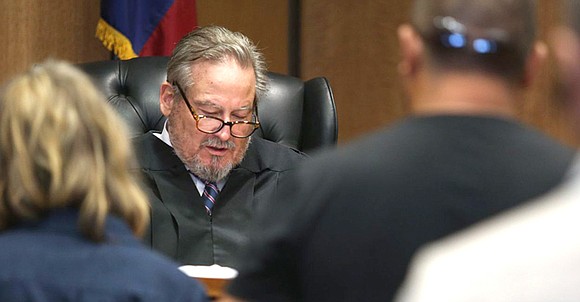 Abbott's office did not respond to a question about whether the governor would now support a similar law, but Moody's committee – at the direction of House Speaker Joe Straus – is set to lead the upcoming discussion on potential red flag legislation. He said he's happy to finally have a discussion on the subject.
"There's this continuing conversation around due process, and unfortunately I think people who are opposed to this type of legislation have just said, 'There is no due process here,'" Moody said. "This is the same structure of any protective order. So there is a court involvement; there is a hearing within a very short period of time; there is a high standard of evidence to enter a more permanent protective order."
Multipling in other states
Since the Parkland shooting, the number of states with red flag laws on the books has jumped from five to 11, and more states are moving bills through their legislatures. In Congress, multiple bipartisan bills have appeared supporting red flag legislation. And even the NRA recently supported risk-based orders, though only under specific conditions that many states didn't adopt.
The laws often stem from tragedy: Connecticut first passed such a law in 1999, after a shooting at the state's lottery headquarters. Connecticut police have removed guns from citizens more than 1,500 times since the law passed. Recent studies have tied the law to a decrease in gun suicides.
The basic elements of the laws are similar in many states: A party can ask a judge to remove someone's guns because they believe the person is an imminent threat to themselves or others, and the judge can order that the guns be immediately seized or surrendered temporarily. A court hearing follows within a specified period to determine whether the guns should continue to be held or returned to their owner.
States with red flag laws have different rules about who can request an order; only law enforcement officers can request the orders in some states, while states like Maryland and California also allow family and household members to petition a judge. In Delaware, only mental health professionals can ask for the removal of firearms.
In Broward County, Florida – where the Parkland massacre happened – police had already seized guns from dozens of citizens since Florida's law passed in March as part of a large gun control bill that the state's Legislature approved after Parkland, according to the South Florida Sun Sentinel. The Broward County cases usually involved either a mental health crisis or online threats.
Ed Scruggs, board vice chair of Texas Gun Sense, a group that advocates for further gun regulation, said Texas lawmakers will likely take a long look at Indiana's law, "That's a deep red state."
In 2005, Indiana passed a red flag law after a high-profile shooting spree that ended in the death of a police officer. The shooter, who was mentally ill and died in the incident, previously had his guns seized while he was detained at a psychiatric hospital, but police were forced to return them to him three months before the shooting.