Monday Night Politics: Meet the Candidates features candidates running for Criminal Court, Court of Appeals, Sheriff and Constable
DENISHA McKNIGHT | 3/5/2018, 2:27 a.m.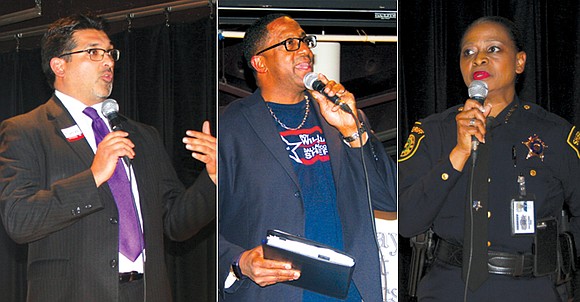 The Dallas Examiner
Monday Night Politics: Meet the Candidates, presented by The Dallas Examiner, returned Feb. 19 to the African American Museum with candidates running for Criminal Court, Court of Appeals, Sheriff and Constable positions.
The forum began with highlighted guests for Criminal Court No. 10 incumbent Roberto Canas and Etta Mullin. Mullin was not present.
Canas introduced himself to the crowd and presented the accomplishments he has achieved since taking office in the domestic violence court.
"My court has been [recognized] as a Domestic Violence Mentor Court by the U.S. Department of Justice, which means that we exhibit the best practices when it comes to domestic violence cases," the incumbent said.
After the introductory segment, Canas participated in a Q&A session with audience members about his practices.
Queston: Why should voters vote for you?
CANAS: Well I would like to think No. 1; my experience. As I've mentioned before, domestic violence isn't like other types of crimes. You do have to have a certain type of training and experience to handle these types of courts. I've been asked to train judges on domestic violence all around the country. I'm going to Michigan in April. I've been as far away as India and Columbia to train judges on domestic violence. So I would like to say No. 1; my experience, my knowledge and my willingness to bridge those gaps where the system is not working, like batter's intervention and things like that. My innovativeness is another reason I would ask you to vote for me and you can ask people around the courthouse that I can be tough but never disagreeable or rude. I've always shown respect because everybody that comes into the courtroom deserves respect. So you can check my bar polls. I get 96 percent approval on demeanor and that's a big part of this court as well.
Q: What innovation have you brought to combat mass incarceration and keep the community safe?
CANAS: You identified the issue exactly right because, especially with domestic violence, there's always a safety issue. But jail time just doesn't work with domestic violence. Offenders don't get a chance to learn anything and don't get a chance to make different decisions once they've learned a little something. I mentioned the study that we did at my court about the results that [showed] jail time does not work. Jail time is really just the last straw if the offenders just doesn't want to be held accountable and go back to their old ways of using violence. That's really the last straw, but incarceration just doesn't work. So in the big picture we judges have our struggles. We know it has to change, but just not the same way as we normally done it.
Q: What are you doing to help the people being battered?
CANAS: In my court, if you hold offenders accountable, you're also doing something about victim safety. They are two sides of the same court. My court often is the first point of contact for victims. They maybe did call the police but they didn't necessarily seek services. I've got grant money to get a victim advocate specifically just for my court – they don't work in any other courts. They are there to help seek services, if that's what she wants, and help guide her through not only the court process but also after the court process to make sure those services are continually going on. I have relationships with the victim advocates and agencies in town. I was given the Champion of Human rights award by the Mosaic Family Services. I have relationships that are very unique as a judge.