Monday Night Politics: Meet the Candidates features candidates running for Criminal Court, Court of Appeals, Sheriff and Constable
DENISHA McKNIGHT | 3/5/2018, 2:27 a.m.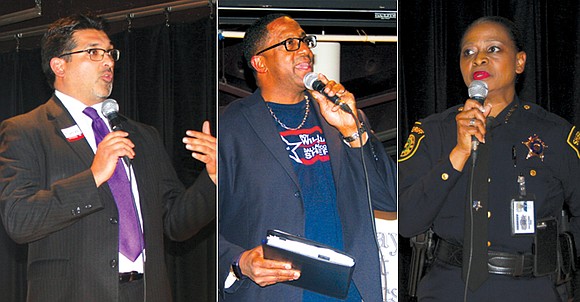 Shortly after, Criminal Court of Appeals No. 1 candidates took over the platform: incumbent Kristin Wade and Marty Jo Taylor.
Wade kicked off the segment elaborating on her core issue and how she has tackled it since taking office.
"What I really want to talk to you about is reformative justice," she said. "I don't just talk about reformative justice; I practice it. In 2004, I started one of the first misdemeanor mental health jail diversion programs in the United States.... Since I've started that program I have gotten 1,300 people out on my mental health PR bonds."
Audience members then questioned each nominee about their motives for the district and their judicial ideologies.
Q: How much do you get in grant funds and how many people have you assisted over the years?
WADE: I am dealing with 40-60 people in my misdemeanor and felony set program. It could be 70 [and] that's at any one given time. So, over the course of the year it has turned out to be a lot. I am grant funded. I get grants from the Governor's office and the Texas Commission on Inmates with Mental Health and Physical Disabilities. I've gotten in the past grants from the Dallas Bar Association and the Swanson Family Trust Foundation. So I pursue many in a lot of different ways. I have a partnership with the Coppell High School Tennis Team who every year collect about $1,000 worth of McDonald's gift cards for me to give out to folks in my program who might need it.
Q: What do you use the grant money for?
WADE: We have some limitations on what we can do with our grant money. The main portion of our grant money goes to case management and it is funded directly through MetroCare. It funds case managers who work one-on-one with the people in that program. They are all fabulous. They would do things such as drive people to the Social Security office, help them get their SNAP cards, hook them up with an AIDS resource center and anywhere they need to go. So I have a wonderful relationship with those. I have another grant that specifically pays for inpatient drug treatment which is very unusual on the misdemeanor level, and that is a federal-funded SAMHSA grant so they can get inpatient drug treatment. I believe that it is the only program at the courthouse where – a misdemeanor offender – we can pay for them to get inpatient drug treatment, which is huge. It pays for quite a bit of time. I partner with Nexus and Homeward Bound on those programs.
Q: Teachers and students are being bullied and children are committing suicide because of it. What will you do about the bullying issue?
WADE: I think bullying is wrapped up in the issue of mental health. There are people who are endanger of committing suicide. That is a mental health issue. I am the candidate and judge that is qualified in mental health. I have three very strong mental health jail diversions. The jail population today is just at 4,900 – close to 5,000 people in jail. Forty percent of those have some degree of mental illness. Twenty percent are a priority population. So I worked my mental health programs three full days a week and I am committed to that subject. It is all wrapped up and we have to look at these issues and address them.