Black legislators call for economic unity, action as Black Wealth 2020 celebrates second year
HAZEL TRICE EDNEY | 3/12/2018, 11:44 a.m.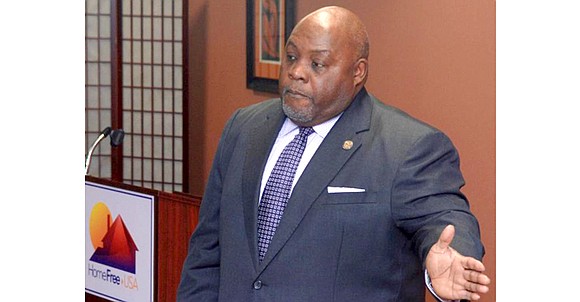 The president of the National Black Caucus of State Legislators, America's largest organization of Black legislators, has called for unity behind economic development initiatives prioritized by Black Wealth 2020, a movement launched two years ago to forge progress for Black-owned businesses, banks and homeowners.
"Economic development is the cornerstone for everything. It's kind of interesting to talk to you all because you're living it every day. You know what it takes," said Indiana Rep. Gregory W. Porter, president of the NBCSL.
He was speaking to Black Wealth 2020 founders, executives and associates at its second anniversary luncheon.
"What it takes is for a community to get along. Also, we don't spend with our people like we should and we know that. The bottom line is this: We know the whereases. We know what the problems are. Therefore, what are we going to do? Jesse [Jackson] said years ago 'Can't nobody save us but us.' ... That's what we're doing right now, saving us."
Backing from the NBCSL adds significant momentum to Black Wealth 2020, founded two years ago by Ron Busby, president/CEO of the U.S. Black Chambers Inc.; Michael Grant, then president of the National Bankers Association; and Jim Winston, president of the National Organization of Black Owned Broadcasters. At least a dozen other major Black organizations have either joined or expressed support for its economic initiatives.
"We own too little land. We have too lower median income than other Americans. We have much lower family wealth than our White brothers and sisters and we've got to make that change," Porter said to shouts of "Amen" and applause from the audience.
A strategy to unify with other organizations will be the key to success, said Porter, a Democrat serving his 13th term in the Indiana General Assembly.
"We're working with the NAACP, [National] Urban League, other groups and national organizations because if we do that we'll be strong together. We can't continue to be silos. So, I know as we go forth, we will do it as a community. And so, remember, you have 600 legislators, we represent 60 million people, we're in 45 states, plus U. S. Virgin Islands and the District of Columbia. We have the means. It's up to all of us to come together and have the will."
Speaking to the luncheon gathering at HomeFree-USA, Porter listed a number of economic policies currently being pushed by NBCSL, which has a membership that blankets the nation; plus the U.S. Virgin Islands and the District of Columbia.
"We represent about 60 million people in rural communities and we come together two or three times a year in an annual conference."
Pointing to long-held discussions about Black wealth, Porter, ranking minority member on Indiana's Ways and Means Committee, stressed that the most important need now is less talk and more strategic action.
"The bottom line is that we can talk all we want to, but we've got to have our independence in regards to economics," he said.
As an example of action, he said he and like-minded legislators have had to hold up certain projects in order to assure Black participation.