Black legislators call for economic unity, action as Black Wealth 2020 celebrates second year
HAZEL TRICE EDNEY | 3/12/2018, 11:44 a.m.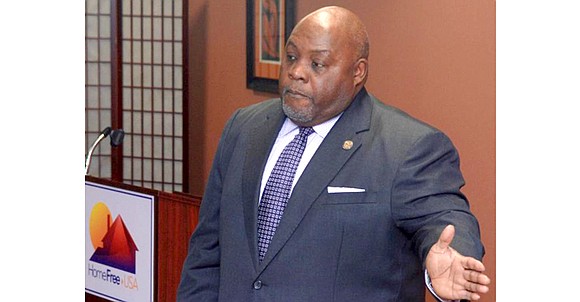 "We're the super minority, so a lot of us are fighting to stay relevant in this whole process," he said. "They always go to the big company, but we've got to know how we're going to build our capacity by choosing minority companies...We've worked very hard in dealing with minority access for sustainable financial institutions through our resolutions. As Black Caucuses across the country, we're increasing our fair contracting opportunities and practices for economic parity. These are resolutions that we've passed."
Among key economic issues being dealt with in legislatures daily are homeowner protection, anti-predatory lending, home affordability resolutions, anti-discrimination and gentrification issues. Preparation for the 2020 Census and making sure African Americans are fully counted will also be key, he said. NCBSL's next legislative conference will be held Nov. 28 at which time they will "look at Black wealth."
Echoing the importance of unity in order to accomplish economic goals, HomeFree-USA President/CEO Marcia Griffin appealed to those in the room to "be our ambassadors, our messengers, etc. because we need to reach thousands with a sense of understanding and get people to wrap their arms around our goals.... We're from all sorts of different segments of the Black community, but we've come together to work together to empower ourselves and empower our community and empower our country."
Grant, now based in Nashville, where he is regional president of United Security Financial, a mortgage banking company, agreed with the appeal for harmony.
"We're not trying to upstage anybody," he said at the Feb. 15 event. "We're not trying to compete with anybody. What we're trying to do is pull our strength together so that when we speak with one voice, they're looking at all of these organizations coming together and it's hard to say no to that kind of power."
Porter also underscored the importance of constituents holding lawmakers - including Black legislators - accountable and not taking for granted that they will automatically push for economic inclusion. He suggested that constituents:
Have their own kitchen cabinet and invite legislators to neighborhood and community meetings.
Come to state houses, visit the representatives' offices.
Attend and speak at public hearings.
"You can't be the invisible," he said. "We've got to stay woke about economic development and the process that we have. We did build this country. We need to manage this country."
Expressing the importance of this year being the 50th anniversary of the beginning of Dr. King's Poor People's Movement, Porter said, "It does mean a lot to us ...You've got to know where you came from to know where you're going."