Peele, Bryant and Del Toro win at a more diverse Oscars
JAKE COYLE | 3/12/2018, 11:37 a.m.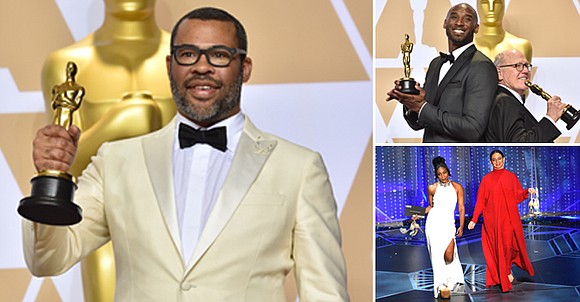 Associated Press
LOS ANGELES – A slight sense of change was palpable at the 90th Academy Awards as Hollywood sought to confront the #OscarsSoWhite issues in the post-Harvey Weinstein era and pivot to a vision of a more inclusive film industry.
The ceremony Sunday at the Dolby Theatre in Los Angeles was punctuated by political speeches and impassioned arguments for diversity. Jordan Peele won for his script to his horror sensation Get Out, becoming the first African American to win for best original screenplay. Peele said he stopped writing it "20 times," skeptical that it would ever get made.
"But I kept coming back to it because I knew if someone would let me make this movie that people would hear it and people would see it," said Peele. "So I want to dedicate this to all the people who raised my voice and let me make this movie."
Guillermo del Toro's monster fable The Shape of Water, which came in with a leading 13 nods, took best production design, best score and best director for del Toro. He became the third Mexican-born filmmaker to win the award, joining his friends and countrymen Alejandro Inarritu and Alfonso Cuaron – who together were years ago dubbed the "Three Amigos."
"The greatest thing that art does, and that our industry does, is erase the lines in the sand," said del Toro, alluding to his international career.
In a year lacking a clear front-runner the awards were spread around. Christopher Nolan's World War II epic Dunkirk tied Shape of Water with a leading three awards, all for its technical craft: editing, sound editing and sound design.
Things went expected in the acting categories, where three widely admired veterans won their first Oscars. Gary Oldman won for his Winston Churchill in Darkest Hour, Allison Janney ("I, Tonya) took best supporting actress, and Sam Rockwell (Three Billboards Outside Ebbing, Missouri) won best supporting actor.
"I did it all by myself," deadpanned Janney, who added after a pause: "Nothing could be further from the truth."
Rockwell dedicated his award to his late friend and fellow New York actor Philip Seymour Hoffman, who died in 2014.
"For my buddy, Phil Hoffman," said Rockwell, raising his Oscar. Oldman thanked his "99-years young" mother. "Put the kettle on," said Oldman. "I'm bringing Oscar."
But many of the show's most powerful moments came in between the awards. Ashley Judd, Anabella Sciorra and Salma Hayek – who all made allegations of sexual misconduct against Weinstein – together assembled for a mid-show segment dedicated to the #MeToo movement that has followed the downfall of Weinstein, long an Oscar heavyweight. They were met by a standing ovation.
"We work together to make sure the next 90 years empower these limitless possibilities of equality, diversity, inclusion and intersectionality," said Judd. "That's what this year has promised us."
Host Jimmy Kimmel opened with a monologue that mixed Weinstein punchlines with earnest comments about reforming gender equality in Hollywood. And of course, Kimmel – returning to the scene of the flub – dove straight into material about last year's infamous best-picture mix-up.